If you're looking for houses on golf courses for sale, you probably already have a good idea about the upsides of buying a home that's part of your favorite club – but as with any other home you buy, there's a process you have to go through to get to the closing table. Whether you've purchased one home or ten, this guide can be a great refresher on what's involved with buying a golf course home.
9 Steps to Buying a Golf Course Home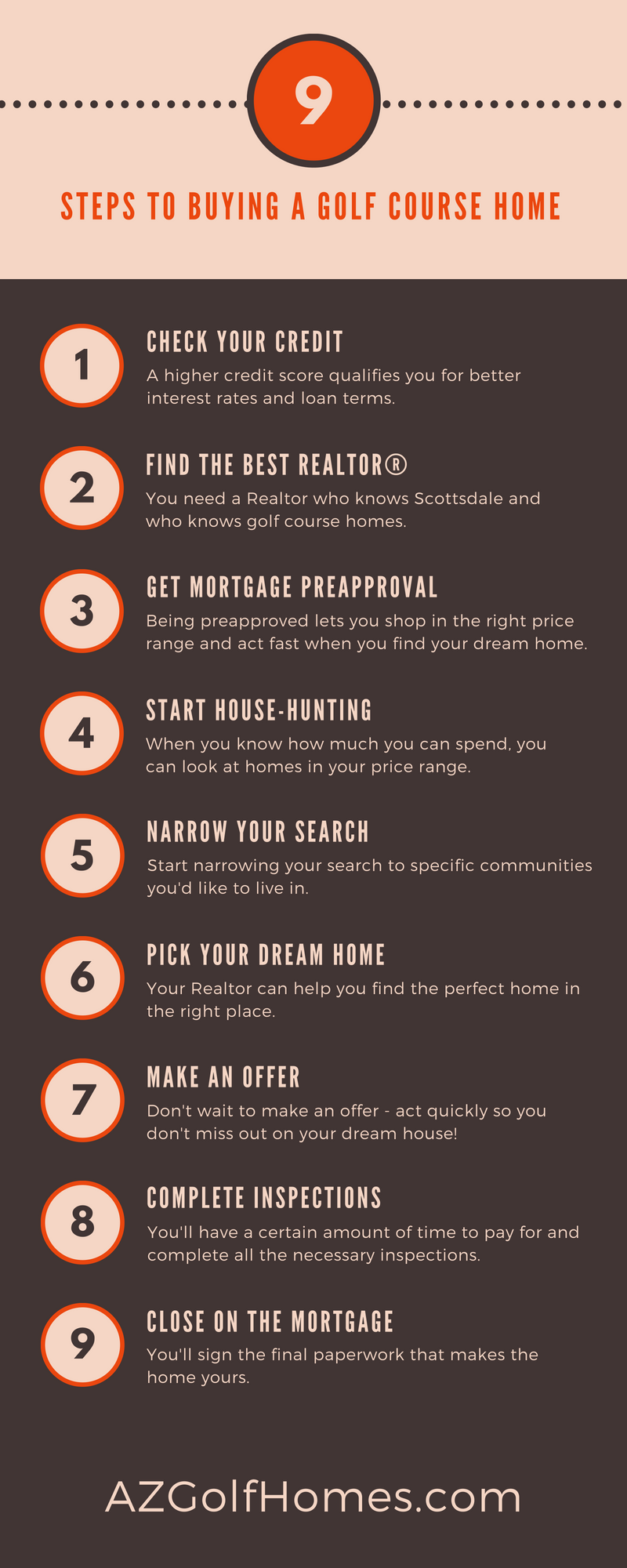 When you're buying a home (any home), you'll:
Check your credit
Find the best Realtor®
Get mortgage preapproval
Start house-hunting in the right price range
Research to narrow your search to specific communities
Find your dream home
Make an offer
Complete inspections
Close on the mortgage
Check Your Credit
When you're buying a home, Step One is to check your credit – you want to avoid any surprises when you apply for a mortgage loan. You'll also want to see if there's any way you can make improvements, because the higher your credit score is, the more favorable terms you'll be eligible for when you talk to a lender.
You can get a free copy of your credit report each year, thanks to the Federal Trade Commission, which you can order here. You can also monitor your credit on sites like CreditKarma.com, which are completely free.
Find the Best Realtor
You need a Realtor who understands the Scottsdale market – and more specifically, Scottsdale golf homes for sale. This area is a lot different from Phoenix or Mesa, and buying a golf course home is different from buying any other type of real estate.
Get Mortgage Preapproval
Before you can start house-hunting, you need to know exactly how much you can afford so you're not wasting time looking at the wrong homes. Having a preapproval helps streamline the whole process, as well, because when you find a home you love, you can confidently make an offer.
Start House-Hunting in the Right Price Range
For most people, it doesn't make sense to only look at the most expensive homes they can afford. Instead, try searching below your max budget; if you don't find a home you love at a lower price, then start looking at costlier houses.
Research to Narrow Down Your Search to Specific Communities
As you're exploring homes for sale in golf course communities all over Scottsdale, you'll find that you like some neighborhoods more than you like others. That's great, because this is a big decision – and you're going to live there for quite some time, so you need to pick a neighborhood that really feels like home.
Find Your Dream Home
With your Realtor's help, you'll be able to zero in on homes in your favorite communities. Your agent can show you any listing, so again, you don't have to limit yourself to houses that are on the higher end of your budget.
Make an Offer
When you do find the perfect home, don't wait – make an offer immediately. Chances are that if you love the home, someone else does, too. You don't want to be left out in the cold because the seller has already accepted someone else's offer while you were "sleeping on it."
Complete Inspections
After a seller accepts your offer to purchase the home, you'll have a certain amount of time to complete all the inspections necessary for you to buy.
Close on the Mortgage
You'll sign your final mortgage paperwork at the closing table, where your agent, the seller's agent, you and the seller will meet face-to-face. Once everyone has signed his or her own dotted lines, the home becomes yours.
And then it's time to plan your move… but that's another post.
Are You Buying a Golf Course Home in Scottsdale?
We can help you find the perfect golf course home for sale in Scottsdale (or any other home). Check out:
Don Matheson
Realtor | Founder
The Matheson Team – RE/MAX Fine Properties
21000 N. Pima Rd., #100, Scottsdale, AZ 85255
480-405-4228 
[email protected]
[gravityform id="1″ title="false" description="false"]