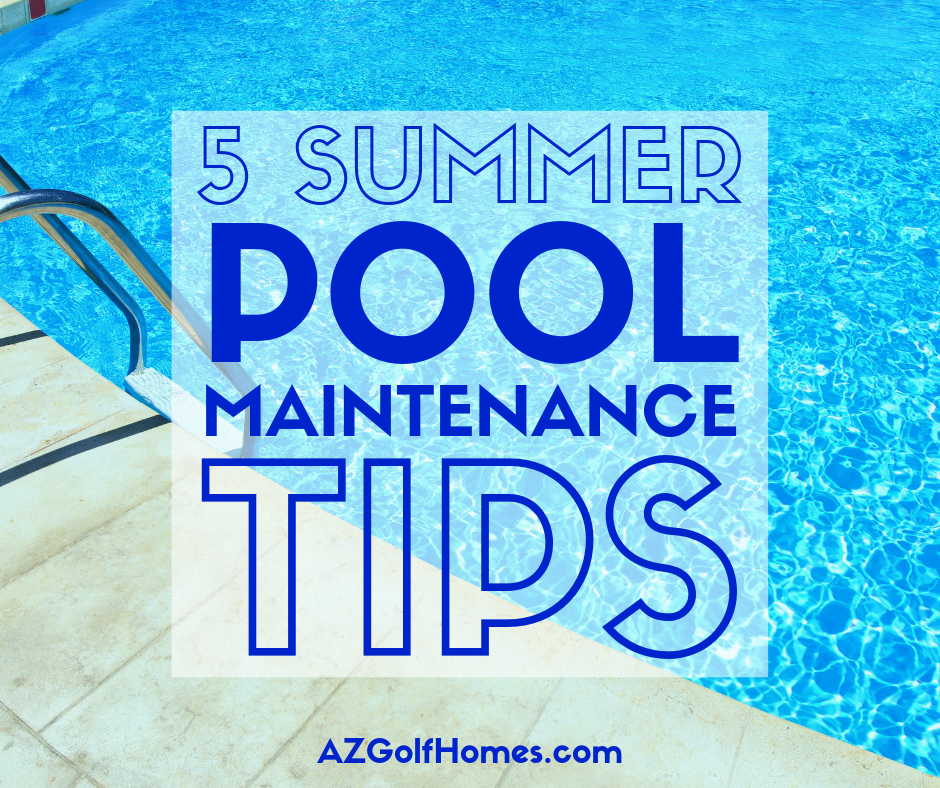 As the end of summer draws near – and while monsoon season is in full-swing – it's time to start thinking about end-of-summer pool maintenance. If you're tackling weekly maintenance, like checking your pool chemistry and cleaning out the skimmer basket, you're on the right track… but there are still five big things you need to do before fall hits.
5 End-of-Summer Pool Maintenance Tips for Scottsdale Homes
Living in the desert means that in addition to managing the right ranges of chemicals in our pools, we have to:
Clean out skimmer baskets
Clean the strainer on the front of the pool pump
Check water levels
Check the chlorinator or ozonator
Clean the filters
Let's take a closer look at each.
End-of-Summer Pool Maintenance Tip #1: Clean Out Skimmer Baskets
Ideally, you've cleaned out the skimmer basket in your pool every week – but if you haven't, now is the time. The skimmer, inside the side of your pool, has one job: To skim the surface of the pool before the things that hit the surface get waterlogged and sink to the bottom. You should have a round access panel on your deck that you can open to dump the contents of the basket.
End-of-Summer Pool Maintenance Tip #2: Clean the Strainer on the Pump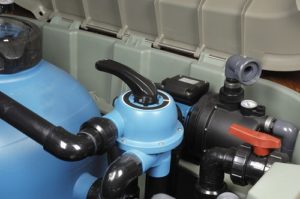 Turn off the pump and turn the relief valve counterclockwise (and while you're there, check the pressure – it should read between 15 and 20 psi). Wait for the pressure to go down while you look inside the pump for a small basket that catches debris. The strainer is what stops debris from getting into the pump assembly and clogging the impeller – and if there's debris caught in it, it'll reduce water flow through the whole system. When the pressure is down, remove the strainer lid and pull out the debris inside; then put it all back and turn the pump back on.
Related: How to destroy your pool
End-of-Summer Pool Maintenance Tip #3: Check Water Levels
Your pool water needs to be at the center-level of your skimmer or pool tile so everything can work properly. If it's too high, the skimmer door won't work – and if it's too low, it can run the pump dry (which can ruin it). Make sure your water level is just right, because monsoons and hot, dry days can really make it fluctuate.
End-of-Summer Pool Maintenance Tip #4: Check the Chlorinator, Ozonator or Chlorine Generator
If you have a chlorinator, you have to check its levels and make sure it's not clogged. If you have an ozonator, double-check that the light's on and that it's powered up. Finally, if you have a saltwater pool, you have to check the chlorine generator to make sure the cell is clean.
Check your instruction manuals, too, so you can make sure your equipment is working properly. (Every pool has a different device, so instructions will vary a little bit.)
Related: Arizona pool barrier regulations
End-of-Summer Pool Maintenance Tip #5: Clean the Filters
You should clean your filters regularly – especially toward the end of summer. If you have a cartridge filter, which is an excellent choice for Arizona, you can either replace it or soak it in a 10 percent solution of TSP or muriatic acid. If you're going to do this yourself, use the right protective equipment; you'll need to clean it in a rubber trash can while you're wearing gloves and eye protection. Remember, too, that you should always add acid to water – don't add water to acid because of the splash hazard it poses.
Pro Tip: Clean your filter after every major storm, especially when sand is on the move.
The Right Chemical Levels for Arizona Pools
Check out this infographic to make sure your pool has the right chemical levels to do its best in the desert.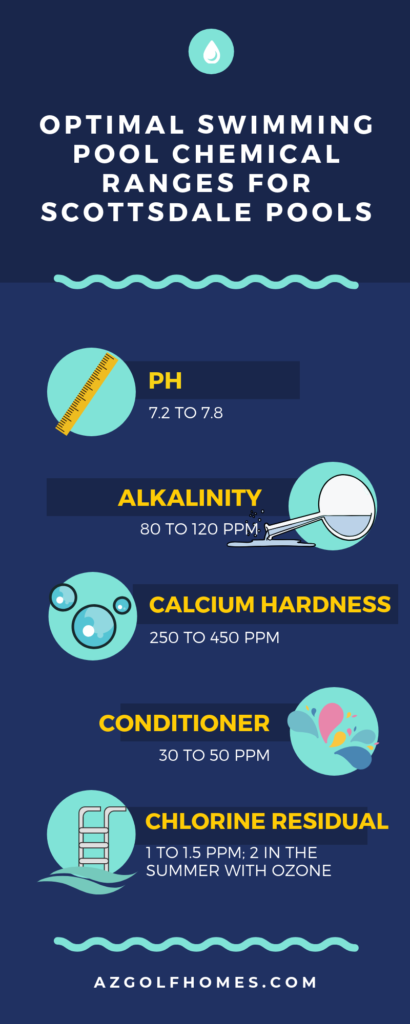 Are You Buying or Selling a Home in Scottsdale?
We can help you find your dream home – or sell your house to move on to the next chapter – in any golf community in Scottsdale. While you're here, you can check out all Scottsdale golf course homes for sale or take a look at these communities:
You can also check out listings in all Scottsdale's golf communities here.
Don Matheson
REALTOR® | Founder
The Matheson Team – RE/MAX Fine Properties
21000 N. Pima Rd., #100, Scottsdale, AZ 85255
480-405-4228
[email protected]
[gravityform id="1″ title="false" description="false"]