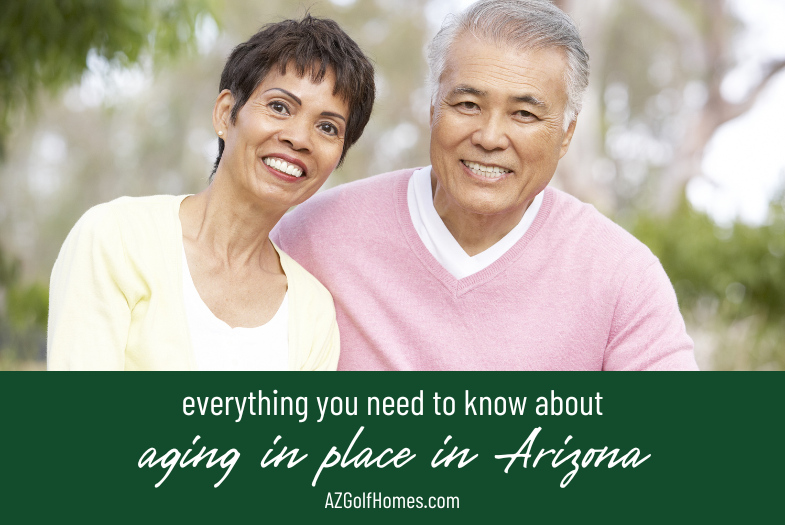 Aging in place is a growing trend – and it may be just right for you. By making a few modifications to your home, you can ensure that you have a safe and comfortable living environment now and in the future. This guide explains what aging in place means, its benefits and challenges, tips on how to make your home accessible for yourself or an elderly family member, financial considerations when planning for aging in place, and all of the things you need to age in place successfully.
What is Aging in Place?
Aging in place means you don't have to move out of your home, regardless of age or physical limitations. Instead, you make a few modifications that help ensure you can stay in the comfort and familiarity of your own home for as long as possible.
Related: Should you sell your home empty or add furniture?
Benefits of Aging in Place
One of the most obvious benefits of aging in place is avoiding the stress and expense of moving to a nursing home or assisted living facility. You won't have to grapple with the feeling of being uprooted, and you'll save on health care costs associated with relocating. You can also remain close to family and friends, maintain your sense of independence, and keep your same lifestyle – all factors that contribute to overall mental wellbeing.
Challenges of Aging in Place
Although aging in place has many benefits, it isn't without its challenges. As you age, activities like cleaning and yard work may become more difficult – so you'll need help from time to time. You may also experience financial strain from any necessary modifications or aid services needed for aging in place safely and comfortably.
Tips for Making a Your Home Safe and Accessible for Your Future Self
Making your home accessible can be overwhelming, but it doesn't have to be. Start by focusing on the spaces that you use most often, like the bedroom and bathroom. This will help ensure that you can access these areas with ease as your needs change. For example, installing lever door handles is much easier than doorknobs; bidets are a great way to reduce the strain of toileting; and adding grab bars in bathrooms helps prevent falls. You should also consider introducing voice-activated technology and bright LED lights throughout your home.
Related: What does a professional home stager do?
Financial Considerations When Planning to Age in Place
Aging in place doesn't mean breaking the bank – there are ways to make your home more accessible without spending a fortune. If money is tight, consider talking to an occupational therapist who specializes in accessibility. They can help you identify areas in need of modification and recommend cost-effective solutions. Additionally, there may be grants or funding sources available that can help offset the cost of improvements.
All the Things You Need to Age in Place
As you plan for aging in place, it's important to identify all of the things you'll need to make your home safe and accessible – both now and in the future. This includes grab bars in bathrooms, lever door handles, barrier-free access to rooms, slip-proof flooring, bright LED lights, bidets and voice-activated technology.
Here's a closer look at each.
Grab Bars in Bathrooms
Grab bars should be installed in showers, tubs and near toilets to provide additional stability when getting in or out of these areas.
Related: 5 tips to help you sell your home in a cooled-off real estate market
Lever Door Handles
Lever door handles are easier to grip than doorknobs, making them ideal for aging in place.
Barrier-Free Access to Rooms
Wider doorways and hallways make it easier for wheelchairs and walkers to enter the room.
Bright LED Lights
Installing bright LED lights throughout your home ensures you can move around safely at night.
Slip-Proof Flooring
Slip-proof flooring helps reduce the risk of falling, so consider introducing this type of flooring in high traffic areas like bathrooms and hallways.
Bidets
Bidets reduce the strain of toileting, and are a great way to make your bathroom more accessible.
Voice-Activated Technology
Voice-activated technology makes it easier to complete everyday tasks without having to rely on manual dexterity.
With all these considerations in mind, you can confidently plan for aging in place with ease. With the right modifications and aids, you'll be able to maintain your independence and thrive in the comfort of your own home for years to come.
Related: How to stage a swimming pool
Are You Buying a Golf Course Home for Sale in Scottsdale?
If you're selling your home and buying another one, call us at 480-405-4228 or fill out the form below to talk to a REALTOR now.
While you're here, you can also check out:
Don Matheson
REALTOR® | Founder
The Matheson Team – RE/MAX Fine Pro