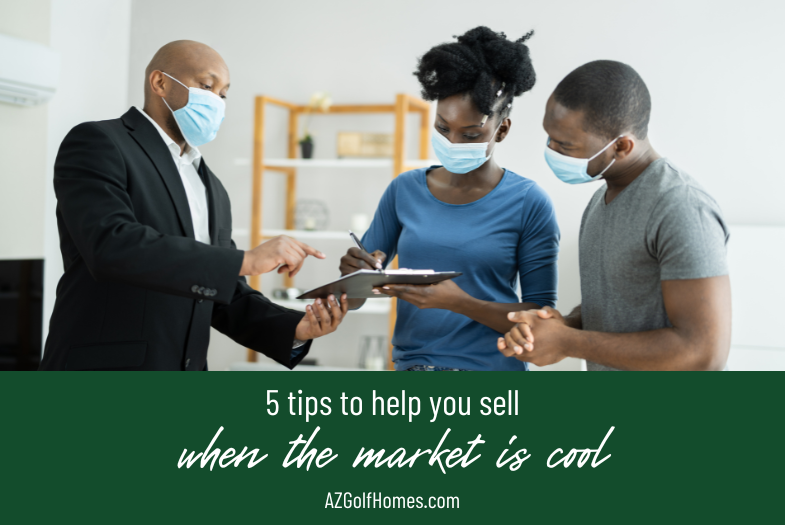 If you're like many people, you may be more than a little concerned about selling your home as the market has lost a little bit of the heat it had during Summer 2022 – but fortunately, there are five things you can do to make your home as appealing as possible to buyers, which in turn will help you sell faster (and for more money). This guide explains.
5 Tips to Help You Sell Your Home in a Cooled-Off Real Estate Market
Check out these five tips to help you sell your home, even when the real estate market has cooled off significantly:
Clean everything from top to bottom.
Declutter – and be ruthless about it.
Stage every space in your home.
Be super-available for showings.
Work with your real estate agent on setting the right price.
Here's a closer look at each.
Tip #1 to Sell Your Home in a Cooled-Off Real Estate Market: Clean Everything From Top to Bottom
When buyers come to look at your home, they'll want it to look spotless. Make sure you wash the walls, vacuum every inch of carpet, and mop all floors. Don't forget hard-to-reach areas like baseboards and windowsills. And make sure everything smells clean – after all, a fresh scent is one of the first things potential buyers will notice when they walk in your door.
If you can, it's often best to hire a professional cleaning team to run through your space before you even list it for sale. The experts you hire will know how to clean everything thoroughly, and after they've finished, all you need to do is maintain the work they did.
Related: 5 things you can do to get buyers to make a same-day offer on your home
Tip #2 to Sell Your Home in a Cooled-Off Real Estate Market: Declutter – and Be Ruthless About It
When you're ready to start selling your home, it's time to declutter each space. This means removing items that don't necessarily make sense visually or that take up too much space. If it doesn't look great, get rid of it or store it away until after the house is sold.
To help you out, make sure to rent a storage unit in advance if needed so you can keep all the items you don't want taking up visual space in your home. This will help create the feeling of spaciousness that buyers love.
Tip #3 to Sell Your Home in a Cooled-Off Real Estate Market: Stage Every Space in Your Home
Staging your home is an absolute must if you want to make the biggest impression on potential buyers. This means taking each room and accessorizing it with items that complement the space aesthetically while still staying true to its purpose. If you're not sure where to start, consider hiring a professional stager who will know exactly what can be done to make your home look its best.
Related: How to stage your foyer to impress prospective buyers
Tip #4 to Sell Your Home in a Cooled-Off Real Estate Market: Be Super-Available for Showings
Potential buyers are going to want to visit your home multiple times so they can get a good sense of the space. To make sure they can, it's important to be available as much as possible for showings. This means you'll need to make arrangements to be away from your home during the day or evening so that buyers can come in and look around without feeling rushed.
Tip #5 to Sell Your Home in a Cooled-Off Real Estate Market: Work with Your Real Estate Agent on Setting the Right Price
Pricing your home correctly is essential if you want to sell it quickly. Be sure to work closely with your real estate agent on setting a price that reflects the current market but also takes into account any features or upgrades you may have completed during your time living in the home.
After you settle on a price, be flexible if potential buyers come in with offers that are pretty close to what you're asking.
Related: 7 questions to ask to find the right agent to sell your home
Are You Buying a Golf Course Home for Sale in Scottsdale?
If you're selling your home and buying another one, call us at 602-694-3200 or fill out the form below to talk to a REALTOR now.
While you're here, you can also check out:
Don Matheson
REALTOR® | Founder
The Matheson Team – RE/MAX Fine Pro
21020 N. Pima Road, Scottsdale, AZ 85255
602-694-3200