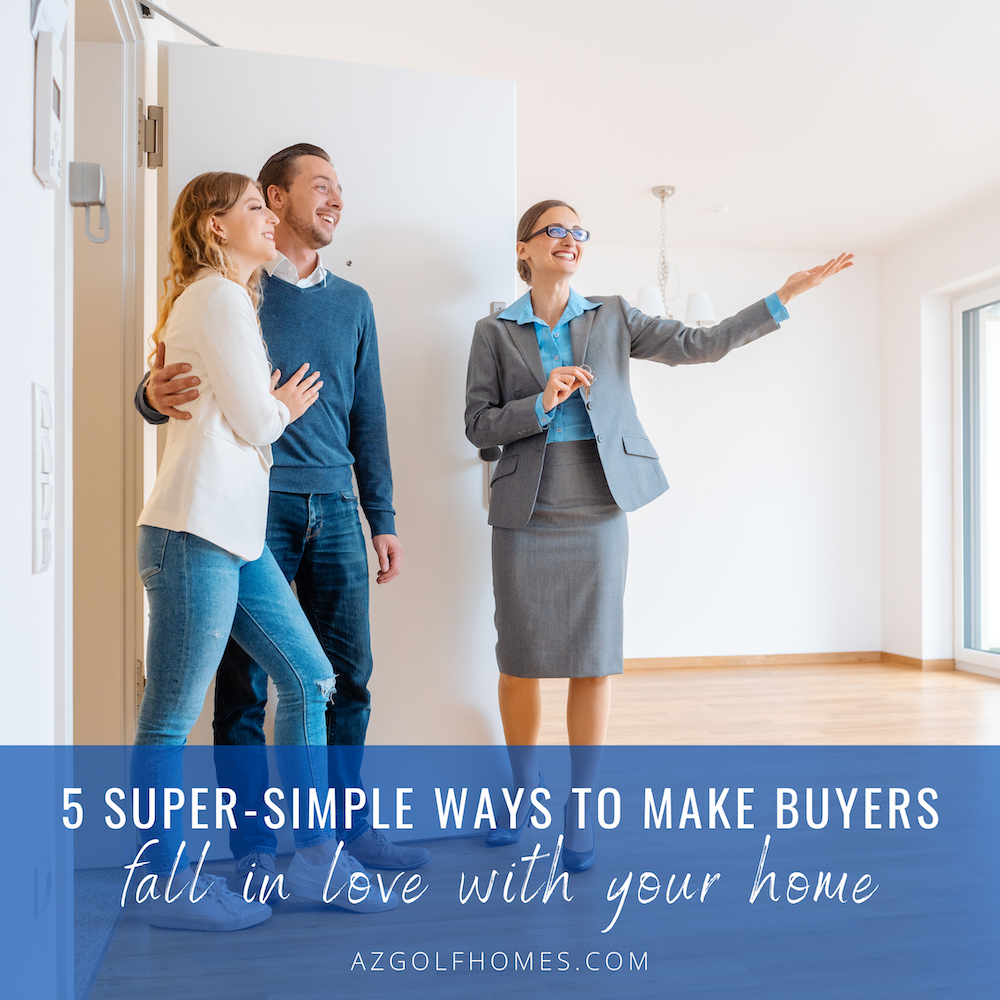 When you're selling a golf course home in Scottsdale or any of our neighboring communities, you know that the golf course or country club will shoulder some of the weight when it comes to impressing buyers – but you can't just cross your fingers and hope for the best. Check out these five super-simple ways to make buyers fall in love with your home.
5 Super-Simple Ways to Make Buyers Fall in Love With Your AZ Golf Course Home
Your REALTOR® will walk through your home with you and give you expert tips and tricks you can use to help impress buyers, but check out these five simple things you can do right now:
Let in natural sunlight
Clear the clutter
Invest in organization
Make buyers feel welcome
Boost your curb appeal
Here's a closer look at each.
Tip #1 to Make Buyers Fall in Love With Your Home: Let in Natural Sunlight
Buyers love to see bright, open spaces, but they can't do that if your blinds are drawn and all you have to illuminate your space is artificial light. Remove heavy drapes and stick to simple window coverings before you list your home for sale – and when buyers come to call, make sure all the blinds are up and every light in the house is on. The brighter, the better.
Related: How to brighten a room with small windows
Tip #2 to Make Buyers Fall in Love With Your Home: Clear the Clutter
When you're selling your home, you're selling more than four walls. You're selling a lifestyle, and you want to show buyers that if they purchase your home, it's going to be easy to keep clean. That means decluttering every room from top to bottom; if you're not sure whether there's too much of anything (including furniture) in any room, the answer is yes, there is. Be ruthless! Go through every room and take out things you haven't used in a year, things that gather too much dust, and things that you're unlikely to want in your new home. Then, donate, sell or junk the items.
Pro Tip: If there's something you can't part with but it's contributing to clutter in your home, put it in storage until you move.
Related: 7 staging tips every homeowner needs to know
Tip #3 to Make Buyers Fall in Love With Your Home: Invest in Organization
Buyers want to see that there's a place for everything (which is part of the reason you decluttered after following Tip #2). Invest in organizational tools you can use to help carry all that hard work over; think about built-in or temporary closet shelving, corner shelves in laundry rooms, and pull-out bins you can use beneath bathroom cabinets.
Related: 5 garage organization hacks from the pros
Tip #4 to Make Buyers Fall in Love With Your Home: Make Them Feel Welcome
You want your home to be a welcoming place where buyers can envision themselves spending time, so put in the effort to make them feel right at home when they come see your space. Get a new welcome mat that complements your front door, leave a charming (and small) metal bucket full of ice and bottled water on the table, and set out pre-wrapped candies (not chocolate) for buyers to enjoy as they tour.
Related: 6 tips for staging a home for a quick sale in Arizona
Tip #5 to Make Buyers Fall in Love With Your Home: Boost Your Curb Appeal
Buyers start forming an impression of your home before they ever set foot through the door, so you want to get them started right. Clean up your home's exterior, pull weeds from the rocks in your yard, and make sure every window is sparkling-clean. Add new house numbers, upgrade your mailbox, and power-wash the sidewalk while you're at it.
Related: How to stage your front porch for maximum curb appeal
Are You Selling a Golf Course Home for Sale in Scottsdale?
We can help you sell your home quickly (and at the right price). Our innovative marketing techniques leverage several mediums to reach qualified buyers – and we can put our experience and knowledge to work for you.
If you're selling your home and buying another one, call us at 480-405-4228 or fill out the form below to talk to a REALTOR now.
While you're here, you can also check out:
Don Matheson
REALTOR® | Founder
The Matheson Team – RE/MAX Fine Properties
21000 N. Pima Rd., #100, Scottsdale, AZ 85255
480-405-4228
Explore Luxury Homes in Scottsdale