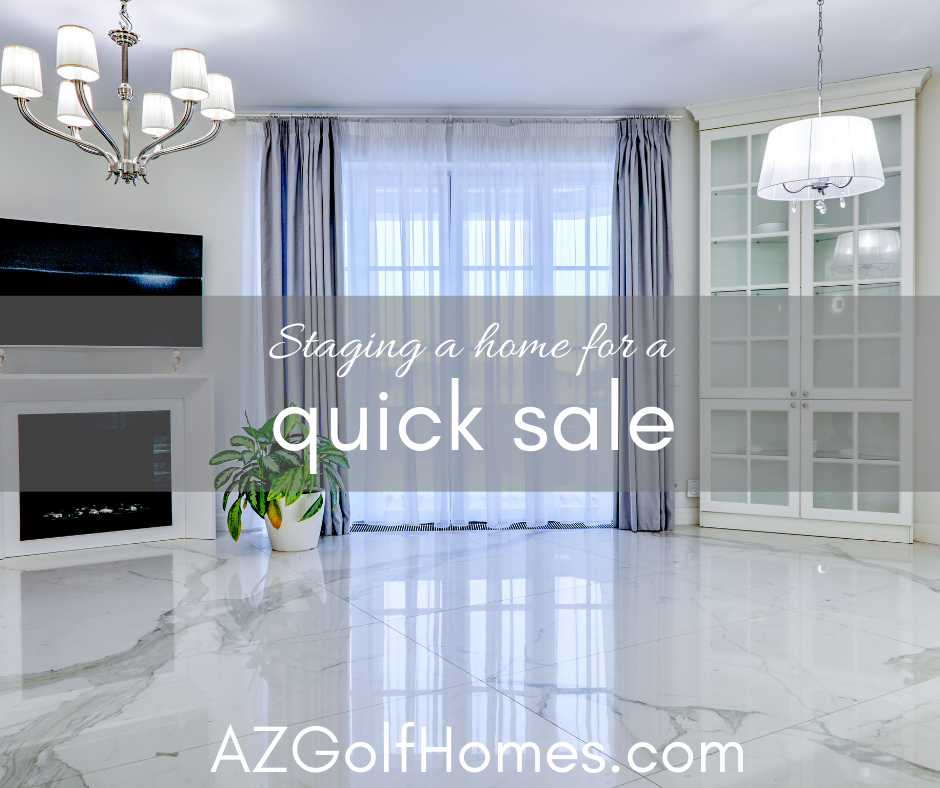 If you're like many people, you want to sell your home as quickly as possible – and you want to sell it for the best possible price. The good news: There are a few secret tricks you can use to make your home more appealing to prospective buyers, even when you're trying to sell on short notice. Check out these six tips for staging a home for a quick sale in Arizona.
Staging a Home for a Quick Sale
Staging is the best way to put your home's best foot (door?) forward with prospective buyers, and it all starts outside. When prospective buyers pull up to your home, maybe long before they've scheduled a private tour, they're forming a first impression. When you want to sell quickly, that first impression has to be a good one, so curb appeal is incredibly important. That means you need to focus on:
Curb appeal
Decluttering and cleaning
Brightening every room
Zeroing in on the most important rooms
Arranging furniture
Adding finishing touches
Let's take a closer look at each of these.

#1. Curb Appeal
Curb appeal really means the way your home looks from the outside. You can spruce up your area by:
Power-washing the walkways and porch
Cleaning your windows until they sparkle
Installing shiny, new house numbers
Trimming overgrowth
Putting out potted plants
Adding a welcome mat to your doorstep
Ensuring you have outdoor furniture on your porch
#2. Decluttering and Cleaning
When a buyer walks into your home, you want to convey that it's a space that's easy to clean and maintain, and you can do that by making sure it's spotless and clutter-free. Go through each room and get rid of anything you haven't used in a few months, even if it means putting the items in storage until you buy your new home. Then, clean the house from top to bottom (or, if you're like us, you'd prefer to hire a professional cleaning crew who can hit all the hotspots).
Search Scottsdale Golf Course Homes for Sale Now
#3. Brightening Every Room
Buyers like to see bright spaces, so take down dark drapes and replace them with light, breezy curtains. Open all the blinds and pull back all the drapes, too, so you can let in as much natural light as possible.

#4. Zeroing in on the Most Important Rooms
Buyers tend to gather in the kitchen to talk to their real estate agents, so that's one of your most important rooms to stage. Equally important: the living room. Then, the master bedroom and other bedrooms – and then you can tackle the rest of the house.
Explore Your Options Now (Continue Reading Below)
#5. Arranging Furniture
Arrange your furniture so there are clear walking paths everywhere. If a room looks a little cluttered because of an easy chair or another furnishing, remove it and put it in storage until you move. You want to go light on furniture (as long as the house doesn't look empty) so buyers can envision their own belongings in your space.

#6. Adding Finishing Touches
 
Fresh flowers on the mantel, a fruit bowl with seasonal offerings on the counter, fluffy and fresh towels in the bathroom – all the things you'd like to see in a well-appointed space belong in your home while it's staged. Think about nice "extras" that buyers will appreciate.
Are You Buying or Selling a Home in Scottsdale?
We can help you find your dream home – or sell your house to move on to the next chapter – in any golf community in Scottsdale. While you're here, you can check out all Scottsdale golf course homes for sale or get in touch with us to tell us what you're looking for.
Don Matheson
REALTOR® | Founder
The Matheson Team – RE/MAX Fine Properties
21000 N. Pima Rd., #100, Scottsdale, AZ 85255
480-405-4228
don@azgolfhomes.com
[gravityform id="1″ title="false" description="false"]