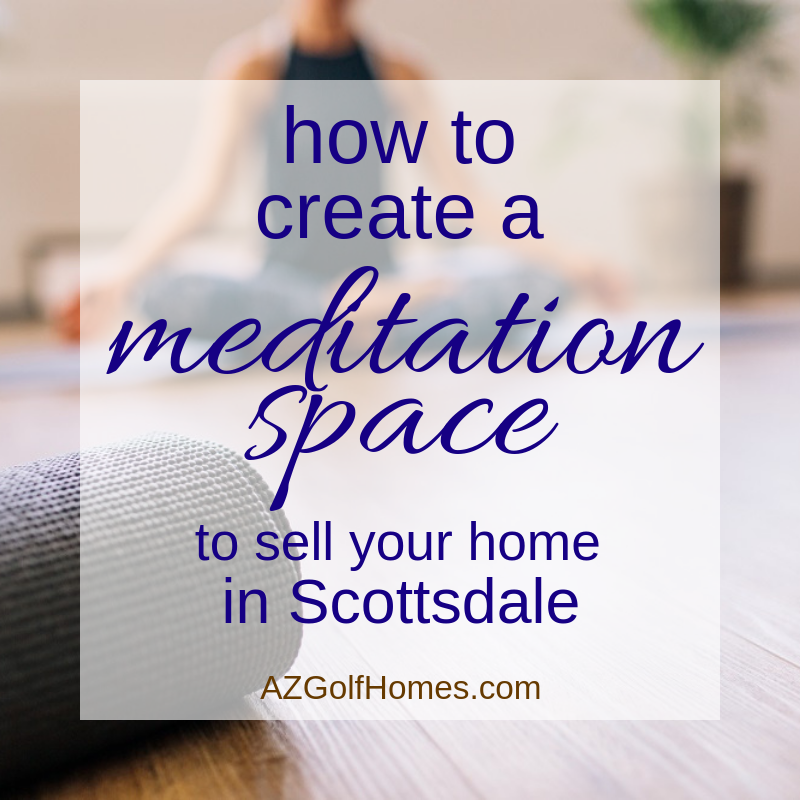 If you're selling your golf course home in Scottsdale and have flex space – a room that serves as a kind of catch-all – your Realtor® will tell you to transform it into a room with a purpose.
And that purpose might just be a soothing, calming meditation space.
What is a Meditation Space?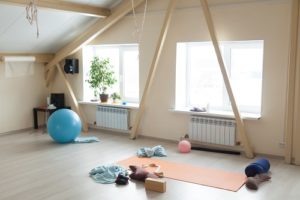 A meditation space is just a place where you can relieve stress, find peace and reset yourself.
If you're creating one just to sell your home, you don't even have to use it – but if you do, you might get hooked (which is great, because you can take everything you used to outfit it to your new home and create your own meditation space there).
Why Create a Meditation Space to Sell Your Home?
About 40 percent of the American workforce reports to work for more than 50 hours per week, and 20 percent work more than 60 hours per week.
People are busy.
When prospective buyers find a home with a  soothing space – like a meditation room – or a space where you can work out frustration (we're looking at you, home gyms), there's a good chance they'll be drawn to it.
How Do You Create a Meditation Space in Your Home?
Sold on the idea? Your buyers might be, too. Here's how to create a meditation space in your home.
Pro tip: Don't repurpose a room that already has a purpose – otherwise, you're creating more work for yourself. (Unless, of course, you've been wanting to carve out a special space all along.)
Remember:
The space only needs minimal furnishings, which is another good reason to transform your flex space into this type of room – there's a lower investment.
Don't feel like you should "fill up" empty space, as long as the room's purpose is clear.
Bare Essentials for a Meditation Room
The best meditation spaces aren't cluttered with furniture or other objects. They're not bare, either, though. Here's what to do to make yours spectacular:
Use a light filter on the windows
Build a comfortable sitting and relaxation area
Bring in live plants
Use decorative accents appropriately
Use a Light Filter on the Windows
You want to let in natural light, but you want it to be softer than glaring sun. Think about a privacy screen that filters a little bit of light and takes the edge off.
Build a Comfortable Sitting and Relaxation Area
Cozy pillows made for sitting on the floor are the way to go when you're creating a meditation space in your home. You can also lay out a yoga mat or two, or keep them rolled in the corner to sell the idea of Zen when buyers come to call.
Remember: You're not only selling a home. You're selling a lifestyle, and this is part of it!
Bring in Live Plants
No meditation room is complete without live plants. Try plants that thrive in filtered light, like:
Peace lily
Echeveria
Philodendron
Pothos
Sansevieria
Use Decorative Accents Appropriately
Some of the best things to bring into your meditation room are:
Decorative cushions arranged in a group in the center of the floor
Singing bowls (even if you don't use them)
A small table with a miniature fountain on it
An aromatherapy diffuser
Spa candles (but don't light them when buyers are coming to tour your home)
Related: 7 tips to turn your bathroom into a personal spa to sell your home
Are You Selling Your Home in Scottsdale?
If you're selling a golf course home in Scottsdale, we can help you get it in front of all the right buyers. We'll even give you staging advice, walk through and help you determine what to upgrade or update, and find the best possible price for it.
Call us at 480-405-4228 right now to talk to an experienced Realtor who's here to make your whole transaction seamless.
Don Matheson
Realtor | Founder
The Matheson Team – RE/MAX Fine Properties
21000 N. Pima Rd., #100, Scottsdale, AZ 85255
480-405-4228 
[email protected]