Desert Mountain has been approved to expand its resort community thanks to a passed General Plan amendment. On December 1, the Scottsdale City Council approved the amendment, taking a currently commercial zoned parcel of land adjacent to Desert Mountain and approving the community to take it on and expand, complete with a new golf course.
The 92-acre parcel of land in question sits at the northernmost point of Scottsdale on the corner of Pima and Cave Creek Roads. Currently, the land is zoned for a mix of commercial uses like office space. However, the land has remained mostly vacant with only an interim fire station, water pump facility and municipal well nearby.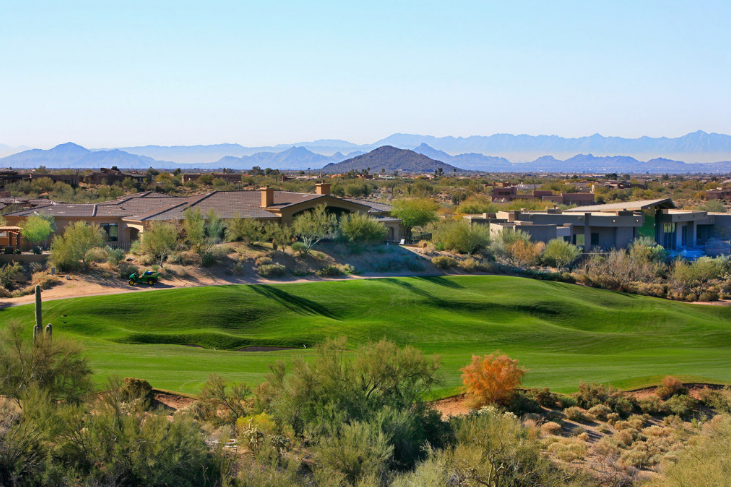 The proposed change in zoning and use will create about 55.5 acres of suburban neighborhoods and about 36.2 acres of environmentally sensitive open space, including a golf course.
Due to the nature of the land, the new development and golf course will be accessible to the rest of Desert Mountain via walkways, bike paths and golf cart paths. How this land will connect to the existing community was actually the only question or concern raise by the city council during the vote.
The decision appeared easy for the Scottsdale City Council. The Desert Mountain community had the opportunity to weigh in on the matter and vote on the expansion. Almost 90% of the community was in favor of the re-zoning and new development. One Desert Mountain resident commented, "I think this program, this process, we are going through now will enable us to continue building Desert Mountain into what we all believe is the finest resort community in the United States."
And in fact, Desert Mountain is consistently ranked as one of the top private golf communities in the world and the only private community with six Jack Nicklaus Signature Golf Courses. The additional activities, events (like the Charles Schwab Cup), proximity to the mountains and other community amenities really make it a standout community. No word yet on if the planned new golf course will also bear the Jack Nicklaus name.
Because the land is so close to Carefree, Carefree mayor Les Peterson was part of the approval process. He noted that making the land open to less intense, more rural and open space uses is more consistent with the character of the community and area. Mayor Peterson did have a few conditions as part of the entitlement approval, though:
Adopt the 100-year, 2-hour retention/detention measure for the site.
Reinforce crossings of two major washes.
Add a left-turn lane on Cave Creek Road.
Create secondary access to the development on Pima Road.
Ensure traffic measures that are required to maintain the current level of traffic on both streets.
All construction traffic should enter and exit at Cave Creek Road.
Mill and pave Cave Creek Road, from Pima Road to the entrance of the development.
It seems everyone is excited to expand this golf course community! And it means more homes to choose from when you're ready to buy your dream home on the greens.
Don Matheson
Realtor | Founder
The Matheson Team – RE/MAX Fine Properties
21000 N. Pima Rd., #100, Scottsdale, AZ 85255
480-405-4228 
[email protected]
[gravityform id="6″ name="CONTACT US" title="false" description="false"]