What's the best kept golf secret in Arizona?  The Arizona Troon golf card!  You'll be amazed at the price breaks you get for tee times on local courses.
With the local weather forecast for May in the 70F°, 80F° & 90F°'s, there's a whole lot of golfing to do before the warmer months hit here in Arizona.  If you are an avid golfer the savings on games played in May will more than pay for the cost of the card itself and that leaves free sailing and savings for the remainder of the 2017 year.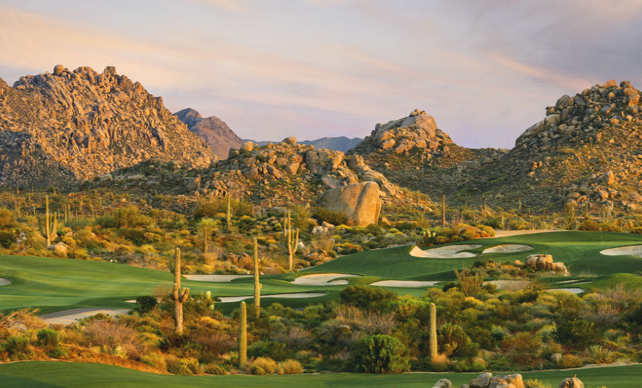 You can find tee times for up to 50% off regular fees and for select tee times in May you can play for as low as $49-$59 for 18 holes!  That's not all, most pro shops and cafes offer 10% off for cardholders, there are two-for-one golf play offers, replay rates are as low as $25 and on your birthday you get an additional 25% off!  There are more perks to be discovered like reward points, e-newsletters and other special offers throughout the year!
Participating courses around the Scottsdale area include, The Boulders in Carefree; Westin Kierland Golf Club, Troon North Golf Club, The Phoenician Golf Club, The Rocks Luxury Residence Club and Terravita Golf Club in Scottsdale; Blackstone Country Club & Scorpion Bay Grill in Peoria;  FireRock Country Club & Sun Ridge Canyon Golf Club in Fountain Hills.
Know someone that has always wanted to play golf but just didn't know where to begin?  May is "Player Development Month" and this is the sixth year in a row that Troon has launched introductory golf clinics in their daily-fee facilities AND their private clubs and academies.  The whole idea behind the launch is to bring more players to the great game of golf!
To give you an idea of what a clinic looks like, The Phoenician is sponsoring a Player Development clinic from 8-10 a.m. on May 27th and the focus will be on full swings with irons, hybrids, fairway metals and drivers, then it'll cover chipping and putting.  The cost is nominal for most clinics with a lot of options as low as $39.
Bottom line other than big savings?  May is a great month to get in the swing of things!
Don Matheson
Realtor | Founder
The Matheson Team – RE/MAX Fine Properties
21000 N. Pima Rd., #100, Scottsdale, AZ 85255
480-405-4228 
don@azgolfhomes.com