The Sun Devil's female golf team brought home the trophies and boy are we proud!  ASU had experienced a dry spell dating back to their last win in 2009, but last week's 2017 NCAA National championship bumped the collegiate women's golf team to a victory of all victories.  An individual title win and a team win that named them the "best trophy case in all of women's golf"!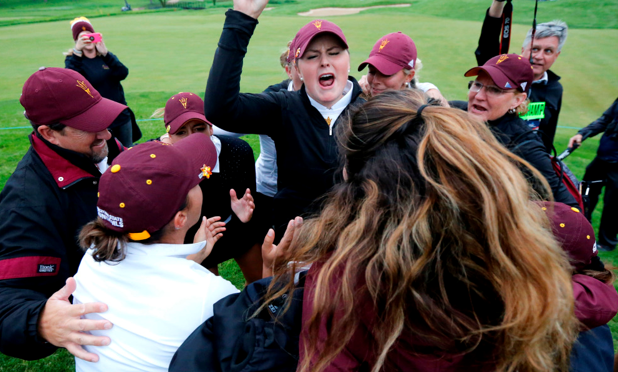 This is their 8th team title and hopefully will start another consecutive run to match their title winning streak in 1993, 1994 & 1995 and consecutive wins in 1997 and 1998.  Their first title win was back in 1990.
It was a rough week with a lot of wind and rain but they knocked their number one contender, Northwestern, out of the way early enough for a relaxed 3-1-1 defeat against the Wildcats. However, it didn't come easy and all eyes were on ASU's sophomore Linnea Strom from the 15th through the 18th holes as she clinched the title for the Sun Devils by winning four consecutive holes!  Consecutive seems to be the buzz word for the women's golf team and we are hoping it remains that way.
But that's not all!  Arizona State's senior, Monica Vaughn, took the NCAA individual title when she played her best golf on the last day and in the last round on the course.  This is quite a feat since winning the individual title along with the team title has only occurred 12 times in the history of the NCAA; the last occurrence was USC's Annie Park in 2013.
We all know it takes an entire team to land a title championship and each member deserves recognition and their name in lights!  Well here they are: Freshmen Taylor Coleman and Olivia Mehaffey; Sophomores, Madison Kerley and Linnea Strom;  Juniors, Sophia Zeeb & Roberta Liti; and the Senior, that brought home the individual title, Monica Vaughn!
No team is accomplished without a superb coaching staff and we tip our hats to Head Coach, Missy Farr-Kaye who is a former ASU grad and remained in the role of assistant coach for many years at ASU.  Missy recently added former ASU player Michelle Estill to her staff as the current assistant coach.  The team practices and plays at the The Karsten Golf Course in Tempe that has helped boost ASU to one of the finest collegiate golf programs in the nation.  Why not check out the course yourself with summer rates as low as $29.
Rich Harvest Farms in Sugar Grove, Illinois hosted both the men's and women's NCAA Championships with Oklahoma taking home the men's trophy out of 30 competing teams.  This latest win puts the Pac-12 Conference just one short win from being the first conference to ever win 500 NCAA championships.  We know one more win is right around the corner!
Don Matheson
Realtor | Founder
The Matheson Team – RE/MAX Fine Properties
21000 N. Pima Rd., #100, Scottsdale, AZ 85255
602-694-3200 or 888-656-4830
don@azgolfhomes.com