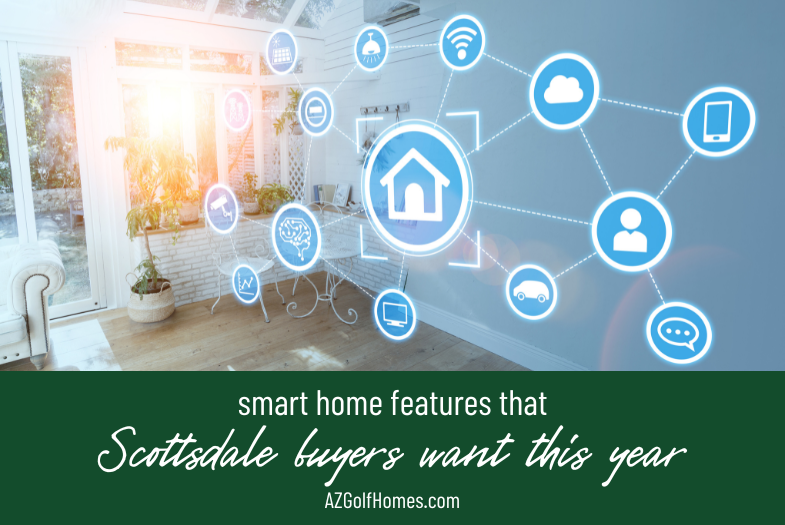 If you're selling your golf course home in Scottsdale this summer, you may want to add a few smart home features if you don't have them already. This guide covers the basics and lets you know what you should do to make your home more appealing to prospective buyers.
Smart Home Features Buyers Are Looking for This Summer
Check out the smart home features buyers are looking for this summer – and that we expect them to continue to look for throughout the rest of 2023: 
Energy-efficient smart thermostats
Advanced security systems
High-tech kitchen appliances
Smart lighting systems
Automated lawn and garden systems
Here's a closer look at each.
Energy-Efficient Smart Thermostats
In the heat of the Scottsdale summer, an energy-efficient smart thermostat can be a lifesaver. These thermostats allow homeowners to control the temperature of their home remotely, reducing energy use and saving on utility bills.
Related: Should you waive contingencies in a hot real estate market?
Advanced Security Systems
Safety and security are priorities for any homeowner. Advanced security systems, which often include features like remote monitoring and automated alarms, provide homeowners with peace of mind, making them a highly sought-after feature.
High-Tech Kitchen Appliances
The kitchen is the heart of any home, and luxury buyers are increasingly looking for smart appliances. These might include refrigerators that can track expiration dates, ovens that can be controlled remotely, and other built-in appliances that make life easier.
Related: How much does it really cost to sell a home?
Smart Lighting Systems
Smart lighting systems provide both convenience and energy efficiency. They allow homeowners to control lighting remotely, set mood lighting, and even program lights to turn on and off at specific times.
Automated Lawn and Garden Systems
In arid Scottsdale, maintaining a lush lawn can be a challenge. That's where automated lawn and garden systems come in. They manage watering schedules based on the weather, ensuring that the yard always looks its best while conserving water.
Related: 5 habits of successful sellers in crazy real estate markets
FAQ About Smart Home Features
Here are some frequently asked questions about smart home features. If you don't see the answers you're looking for here, please call our office. We're here to help.
How much value can smart home features add to my home?
While it varies, smart home features can significantly increase your home's value due to their popularity among buyers.
Are smart home features expensive to install? 
Costs can vary based on the feature and whether it requires professional installation. However, many smart home devices are reasonably priced and easy to install.
Related: 9 spring home maintenance tasks to tackle before you list your home
Can I install these features myself? 
Many smart home features are DIY-friendly, but some, like advanced security systems, may require professional installation.
Are smart homes energy-efficient? 
Yes, many smart home features, like smart thermostats and lighting, can significantly improve your home's energy efficiency.
Do I need to make my entire home smart? 
No, you can choose which features are most appealing to potential buyers. Often, a few key features can make a significant difference.
Related: The perks of living in a Scottsdale golf course community
Preparing your home for sale involves understanding what buyers want. By integrating these smart features, you're not only making your home more appealing to a wider range of buyers, but you're also increasing its potential value.
Are You Buying a Golf Course Home for Sale in Scottsdale?
If you're selling your home and buying another one, call us at 480-405-4228 or fill out the form below to talk to a REALTOR now.
While you're here, you can also check out:
Don Matheson
REALTOR® | Founder
The Matheson Team – RE/MAX Fine Pro