Most Scottsdale homebuyers – whether they're fledgling chefs or professional-level dinner party entertainers – see kitchens as a make-or-break room in the home. No matter which camp you fall into, you have to see these gorgeous kitchens that are in homes currently for sale in Scottsdale.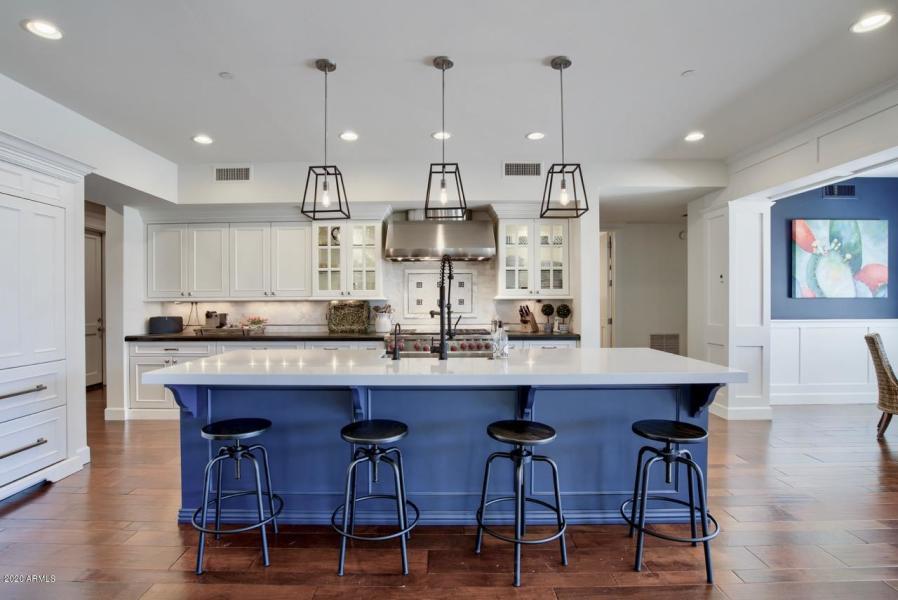 Modern-Classic Kitchen in 18884 North 98th Street
The ultra-bright, classic kitchen in 18884 North 98th Street in Scottsdale is a must-see. Featuring fabulous industrial-style lighting and a fresh twist on a country look, this kitchen is large enough to cook for two or twenty – and it features professional-grade equipment, including a six-burner gas range with a steel range hood that make it look amazing.

Elegant and Warm Kitchen in 19946 North 103rd Street
The rich tones and classically elegant styling of the kitchen at 19946 North 103rd Street make it a beautiful space to spend time. The rest of the home is equally spectacular, featuring Spanish Colonial-inspired design, gorgeously oversized windows and top-end flooring throughout. It's also located in The Parks neighborhood at Silverleaf and offers spectacular views of lush grass and a sparkling lake.

Modern Kitchen in 21053 North 110th Way
The beautifully modern kitchen at 21053 North 110th Way features perfectly streamlined style that complements the entire home. With ample seating and storage space, this kitchen is a chef's dream; it even has professional-grade appliances that you'd expect to see in a famous cuisinier's home. The home itself is situated behind its own private gates on 4.7 acres of property in the guard-gated Upper Canyon community at Silverleaf.

Rustic Charm in the Kitchen at 10819 East Rimrock Drive
The rustic-but-modern kitchen at 10819 East Rimrock Drive features true California style living. With dramatic views from the kitchen – and its many amenities – it's the ideal home for an aspiring chef. The home was the first in Silverleaf built to earn LEED certification for energy efficiency, as well.
Are You Buying a Golf Course Home for Sale in Scottsdale?
If you're selling your home and buying another one, call us at 480-405-4228 or fill out the form below to talk to a REALTOR now.
While you're here, you can also check out:
Don Matheson
REALTOR® | Founder
The Matheson Team – RE/MAX Fine Pro