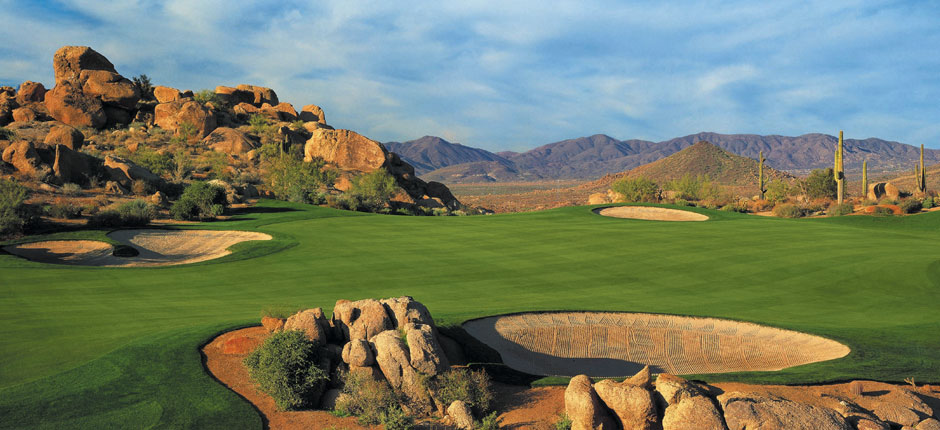 Upscale golf course management giant Troon has recently announced a planned partnership with people-moving innovators Uber. The partnership is kicking off this month at the Waste Management Phoenix Open, also known as the most-attended professional golf tournament and in a favorite Arizona golf community to boot. If you've ever been to the tournament on a Saturday, or live near the area and been stuck in traffic, you know how that 16th hole can create a need for safe, reliable transportation!
Troon is a title sponsor of the Uber Lounge at the tournament. The hangout will be equipped with refreshments, golf games, magazines, and other fun activities that spectators can enjoy while they wait for their Uber rides.
Beyond this kickoff tournament, the partnership will be an essential cog in Troon's plan to improve the overall experience for golfers at their clubs. Not only will Troon golfers have easy access to transportation and a safe ride home, but Troon and Uber will offer promotions and discounts to golfers, as well as social giveaways and the opportunity for Troon members to win free rides.
For those Uber riders who haven't tapped into the sport yet or are new to golf, Troon will plant their custom magazine – Troon Golf & Travel – in some Uber cars. The cross promotion is aimed at tapping into high-end customers who may not know about all the benefits of Troon. Uber riders will also have the opportunity to win free club rentals, food and beverage offers, and even free golf at Troon properties.
Troon Senior Vice President Ryan Walls is excited for the partnership and says, "By collaborating together, we are able to enrich the experience of our customers and members while showcasing what makes both Troon and the game of golf unique to people we traditionally might not reach."
If you've never heard of Uber or haven't tried the service yet, it's a smart phone app that connects local freelance drivers with people who need rides. The service prides itself on screening all drivers and all payment is also handled through the app, making it easy to request a ride, hop in, and hop out in a matter of minutes. Uber is now in 315 cities, including the Phoenix metro area.
Whether you're on vacation and just need a ride to and from the course, or you celebrated your hard fought victory with a few cocktails and need a safe ride back to your Scottsdale golf home, this new partnership should prove to be a great benefit for golfers throughout Arizona golf communities.
Don Matheson
Realtor | Founder
The Matheson Team – RE/MAX Fine Properties
21000 N. Pima Rd., #100, Scottsdale, AZ 85255
480-405-4228 
don@azgolfhomes.com