There's nothing quite as refreshing as taking a dip in your very own desert oasis. With sunshine over 300 days a year, Scottsdale golf home owners certainly get a lot of use out of their pools.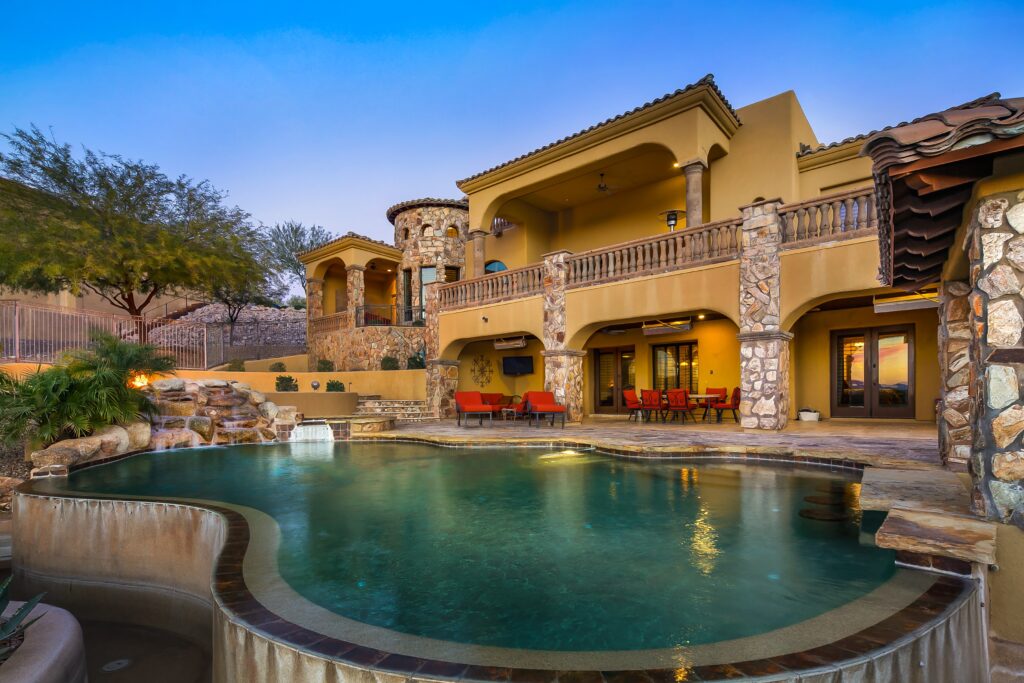 But as most home and pool owners know, pools can use quite a bit of electricity (a pool can be the second largest consumer of electricity in a home, according to the recent press release).  Luckily, a local company has found a way to harness our sunshine to operate a solar-power robotic pool cleaner, thus lowering those high energy costs and reducing your pool's impact on the environment.
Solar Pool Technologies Inc., a Scottsdale-based pool equipment company, has developed the Solar-Breeze NX. The Solar-Breeze cleans the pool of leaves, pollen, bugs and other debris, making hand-skimming virtually unnecessary. In addition to saving time on cleaning the water, using the power of the sun rather than traditional electricity can reduce a pool's energy costs by up to two-thirds.
The robotic cleaner also comes equipped with a chlorine dispenser that releases the chemical evenly across the pool, more effectively sanitizing the water than other forms of chlorine release. This also reduces chemical consumption by about one-third, on average.
The original Solar-Breeze was introduced in 2011 and quickly gained a solid and loyal group of pool owner fans. In 2015, the Solar-Breeze NX was introduced after a successful crowd-funding campaign that raised over $408,000, which was even more than the goal amount. Solar Pool Technologies was able to put the new solar cleaner into production and it will be ready for release this spring. The NX model of the solar pool cleaner features the same basic functions as the original, plus:
Updated software
Increased power and battery management, including less stress on the motors for a longer product life
Improved resistance to UV rays (outer plastic)
Re-engineered gears that increase efficiency
Available attachments that allow the Solar Breeze to adapt to unique pool features, such as rocks and beach entries
The new and improved Solar-Breeze will be available for consumers through PoolZoom.com, an online retailer specializing in swimming pool supplies and equipment. Both Solar Pool Technologies Inc. and PoolZoom.com are excited about the partnership and being able to expand efficient equipment options to pool owners.
"We are thrilled to partner with PoolZoom.com to make [Solar-Breeze] available for purchase in their stores and on their website starting this spring," stated Solar Pool Technologies CEO Paul Sim.
"The Solar-Breeze NX is a great fit for their customer base."
Fielding Posson of Poolzoom.com agrees: "Our customers appreciate seeing the latest tools and accessories that will allow them to spend the most time enjoying their pool and the least time working on it. The Solar-Breeze NX is a truly innovative product that sets a new standard for pool skimmers and raises the bar for 'green' devices in the industry."
You can order your very own Solar-Breeze NX through poolzoom.com today. The product is expected to ship in late April or early May, just in time for the height of Scottsdale golf homes pool season!
Interested in how you can use this device in your Arizona golf home or community? We're always glad to chat about the latest and greatest products and answer any questions you might have about how improvements impact resale value, too.
Either way, we hope you'll make the most of your pool this summer. Poolside living is one of the best things about living in Scottsdale!
Don Matheson
Realtor | Founder
The Matheson Team – RE/MAX Fine Properties
21000 N. Pima Rd., #100, Scottsdale, AZ 85255
480-405-4228 
don@azgolfhomes.com