Here are 39 common real estate terms and their definitions.  Whether you're new to home buying or selling, or a seasoned veteran, knowing the lingo is certainly helpful.
The Matheson Team at AZGolfHomes are experts in helping buyers and sellers navigate the sales process with ease.  We are your "go to" resource for real estate information in the Scottsdale area.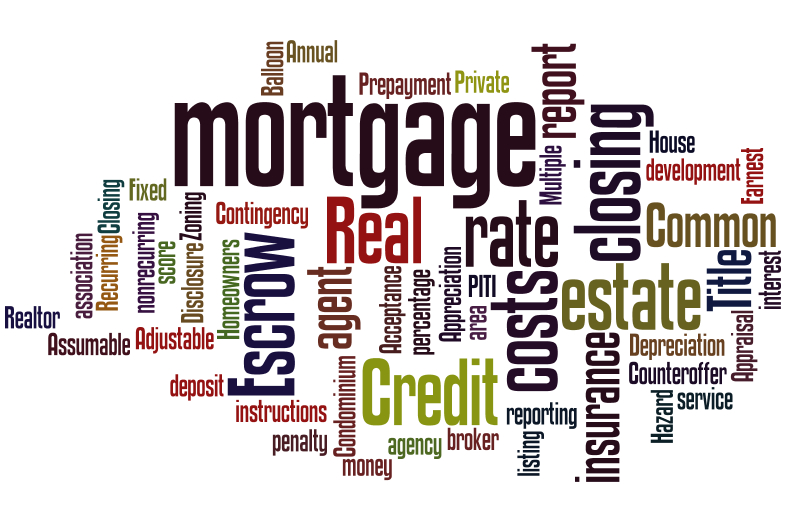 1.  Acceptance:  One party's compliance with the terms of an offer or counter offer by another.  Acceptance occurs when the accepting party signs the contract or counter offer, and that document is delivered to the other party.
2. Adjustable rate mortgage (ARM): A mortgage loan with a rate that fluctuates when a designated market indicator changes (e.g. weekly average 1yr U.S. Treasury Bills) over the life of the loan. To reduce fluctuations, ARMs have parameters on how often and by how much the interest rate can vary.
3. Annual percentage rate (APR): A yearly interest rate including upfront fees and costs paid to get the loan.  It's calculated by taking the average compound interest rate over the loan's life.  Lenders are required to disclose the APR so borrowers can compare the actual cost of different loans.
4. Appraisal: A determination of  the home's value. An appraiser should be an objective specialist in local real estate appraisals.  The appraiser estimates value by walking the property, and comparing it with recent sales of similar properties in the area. Lenders require appraisals to determine the worth of the house for lending purposes. If the appraisal comes in lower than the loan amount the lender may choose not to fund the loan, or require a bigger down-payment from the buyer. Cash Buyer's take note: appraisals are recommended even if you're not borrowing money. The appraisal provides understanding of local market sales for similarly situated homes and protects your initial investment.
5. Appreciation: An increase in value of  property over time. Property appreciates for a variety of reasons including increased market demand, inflation and interest rates.
6. Assumable mortgage: A mortgage that allows the buyer to take over the seller's mortgage.  In theory, the buyer steps into the seller's shoes, makes mortgage payments, and complies with terms of the existing loan. Lenders require the buyer to qualify in order to assume the seller's mortgage.
7. Balloon mortgage: A mortgage that over the term of the loan is not fully paid off, leaving a balance at the end. The borrower has a choice of paying off the remaining mortgage or refinancing the loan.  Balloon mortgages generally have 3, 5, 7 or 10 year terms.  The payment that must be made at the end is called a Balloon payment.
8. Close of Escrow: The final transfer of ownership of a property from seller to buyer occurring after both meet  the terms of the contract and the deed has been recorded.
9. Closing costs: Settlement or transaction charges (not including the purchase price of the property) that buyers pay at the close of escrow when the property is transferred. The charges typically include lender's fees and points or prepaid interest, a prorated share of the property taxes, transfer taxes, credit check fees, homeowners' and title insurance premiums, deed filing fees, real estate commissions, inspection, appraisal, and attorneys' fees. Some closing fees are tax-deductible.

10. Common area:
 Shared facilities and space such as recreation amenities, community centers, community pools and parks within a communities or townhome development.  Common areas are not individually owned by residents, but owned by the management organization.
11. Common interest development:
A type of housing with individually owned units, like condominiums, townhouses, or single-family homes, sharing ownership of common areas, such as swimming pools, landscaping, and parking. Common interest developments are managed by homeowners' associations. Members pay periodic dues.
12. Condominium:
 Each owner holds title to their individual unit and shares ownership of common areas such as driveways, parking, elevators, common hallways, recreation and landscaped areas. A homeowners' association typically manages the common areas and oversees the covenants, conditions and restrictions (CC&Rs) to the property.
13. Contingency:
A provision of an accepted offer saying terms will change or be voided if a specific event occurs. For example, a contingency may say if the buyer does not approve of the inspection report, the buyer may cancel the contract within a specific period of time.  The seller might include a contingency asking for proof within a specific time period that the buyer is financially able to make the deal.
14. Counter offer:
The rejection of an offer where the rejecting party includes a different offer changing terms of the original offer. For example, you offer $540,000 for a house, and the seller replies he wants $560,000.  The seller has rejected your offer and made a counteroffer.  Counteroffers legally void the original offer.
15. Credit report:
A written report of the buyer's credit history from a credit reporting agency. Credit reports include information on your loans, credit cards, bills and accounts and a record of your addresses and employers.
16. Credit reporting agency:
A company that collects and sells information about an individual's credit history. Lenders use the information to screen applicants. Credit reporting companies are regulated by the federal Fair Credit Reporting Act.  Commonly used credit reporting agencies are Equifax, Experian, and TransUnion.  You can receive a 
free copy of your credit report annually
.
17. Credit score.
Numerical calculation creditors use to determine the creditworthiness of a person applying for credit or loans.  Higher credit scores indicate less risk of default, and lower scores indicate a higher risk of default.
18. Depreciation:
 Loss of value of property occurring as the result of external economic conditions; e.g. age of home, market demand,  natural wear and tear.
19. Disclosure:
 Making facts known that are not readily apparent. In most states a home seller must disclose defects in the house that he knows about, like a leaky roof; and, in all states, sellers must disclose use of lead-based paint in buildings constructed before 1978.  Arizona has a 7-page Seller's Property Disclosure Form.
20. Earnest deposit:
A deposit showing commitment in a contractual relationship.  The deposit is made when the purchase offer is accepted.  It is generally held by a title company in Arizona.  The Earnest Deposit is credited towards the downpayment and closing costs at close of escrow.
21. Escrow:
The holding of funds and documents by a neutral third party, typically a title agent in Arizona, between date of contract and close of escrow.
22. Escrow agent:
A person or a company handling escrows for a fee.  Their fee is part of the closing costs.  In Arizona, we use Title company's for this purpose.
23. Escrow instructions:
Written instructions, signed by both buyer and seller telling the escrow agent what needs to happen before the home purchase is complete.
24. Fixed rate mortgage:
A mortgage loan having a constant interest rate across the life of the loan.
25. Hazard insurance:
A type of insurance found in homeowners' policies protecting against physical damage to the property caused by unexpected events like fires, storms, and vandalism. Lenders require buyers to purchase hazard insurance to protect their investment.
26. Homeowners' association:
An organization of residents managing the common areas of a neighborhood. The associations collect periodic dues and handle maintenance on common gardens, pools, and fences, noise abatement, snow removal, parking areas. The homeowners' association enforces covenants, conditions, and restrictions (CC&Rs) applying to the property.
27. Multiple listing service (MLS):
A computer-based service providing real estate professionals detailed listings of homes currently on the market.  
Search the MLS now.
28. Nonrecurring closing costs:
 One time costs of closing a home purchase, e.g. appraisal fee, title insurance, and transfer taxes. (Compare with recurring closing costs below.)
29. PITI:
Acronym for expenses making up a mortgage payment:
P
rincipal (the amount borrowed),
I
nterest, (property)
T
axes, and 
I
nsurance.
30. Prepayment penalty:
A fee paid by a borrower who pays off a mortgage loan before its due date. Lenders impose this kind of fee to encourage borrowers to hold a debt  so the lender collects interest for the loan's full term.
31. Private mortgage insurance (PMI):
Insurance reimbursing the lender if a buyer is unable to repay the loan and the foreclosure sale price is less than the amount owed the lender (the mortgage plus the costs of the sale). A home buyer who makes less than a 20% down payment is generally required to purchase PMI.
32. Real estate:
Land and the buildings, houses, stationary mobile homes, fences and trees – things permanently attached to the property.
33. Real estate agent:
  Real Estate agents 
act as an intermediary between buyers and sellers of real estate.  They 
assist sellers in marketing property and selling it for the highest possible price under the best terms. They assist buyers in helping them 
purchase property for the lowest possible price under the best terms.

 A real estate agent has a fiduciary duty to his/her clients, and a duty of fairness and honesty to other parties of the transaction. 
34. Real estate broker:
 A Real Estate agent with additional training and experience can earn a broker's license.   They have all the duties of a real estate agent.  A"Designated Broker" is a broker who is in charge of all of the activity in a real estate company or brokerage.  An "associate broker" is someone who maintains a broker's license but works under a company's designated broker.
35. Realtor®:
A real estate agent who is a member of the
National Association of Realtors
 is allowed to call himself or herself a Realtor®.  A Realtor® must take extra classes in Ethics and is held to a higher standard when doing business.
36. Recurring closing costs:
The costs of closing a purchase that are the first of a series of payments recurring over time; e.g. homeowners' insurance and property taxes. (Compare with nonrecurring closing costs)
37. Title:
Ownership of real estate; title is evidenced by a deed recorded in the County Recorders Office in Arizona.
38. Title report:
  A written report on the "status" of the property, indicating the owner of the property and what claims there are on the title.  This report includes a description of the property, the names of the current owners of the property and how they hold title, a list of encumbrances on the property (including 
liens,
deeds
of
trusts,
 mortgages, other 
recorded
judgments, and easements), real estate taxes due
. A title company typically prepares the report.    It's accuracy is insured through a title insurance policy.  In the event that there is an error, or a cloud on the title, the title insurance company must correct the issue or pay damages.
39. Zoning:
 Local laws dividing areas into  zones by allowed uses (e.g. single-family residential, commercial, industrial). Mixed-use zones may also be designated.  Zoning ordinances control size, location and use of buildings within the areas.  They impact traffic patterns, health, and livability. Before buying understand the zoning laws of your neighborhood and surrounding area.
We are
Scottsdale real estate experts
who help you navigate the buying and selling process with ease.  Reach out to us if you would like to learn more.
CONTACT US
Don Matheson
Realtor | Founder
The Matheson Team – RE/MAX Fine Properties
21000 N. Pima Rd., #100, Scottsdale, AZ 85255
480-405-4228 
[email protected]
[gravityform id="1″ name="Contact Form" title="false" description="false"]