While it can be argued that every season is patio season in Arizona golf communities, we're right in the thick of prime patio time right now. The days are warm but mild, and the evenings are still crisp.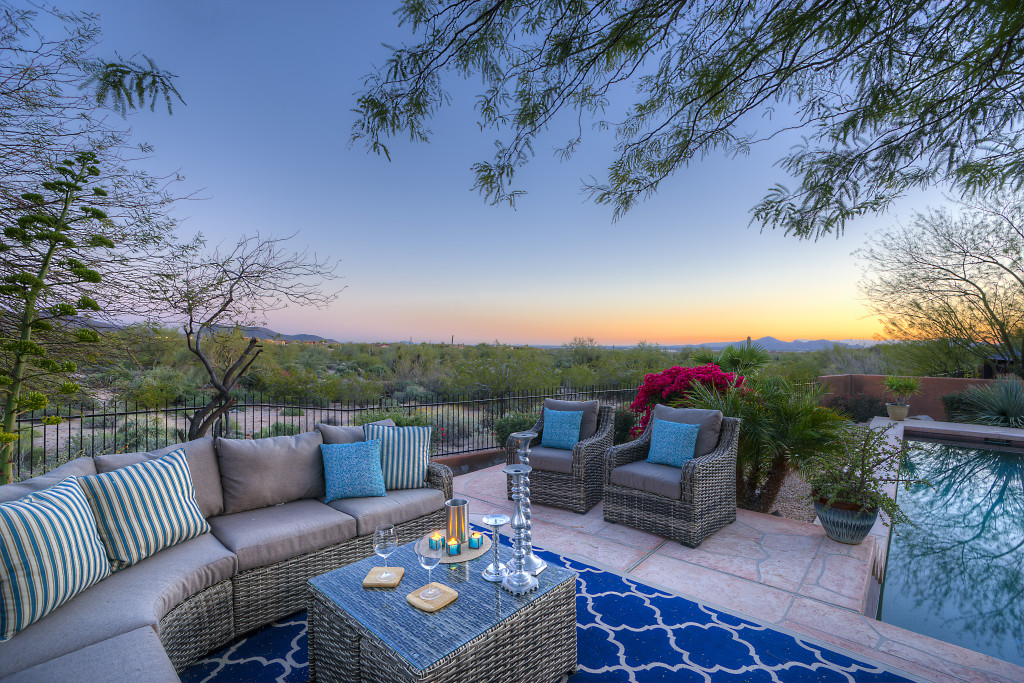 But if your patio is bare or dull, it's probably not very welcoming any time of year. Here are 10 simple design ideas to prep your patio for entertaining:
Accent furniture in colors that pop.
Add a bright blue end table next to your neutral lawn chairs and you've suddenly created a fun point of interest. Toss a few coordinating outdoor throw pillows on those chairs and take the design up a few notches! This is a great trick for patios of any size, but especially smaller porches and courtyards.
Plant up.
Do you have nosy pets or a lack of ground space? Try planting a vertical garden along a wall. Simply save a few cans from dinner, spray paint them in fun colors, drill a hole in the bottom, plant some herbs and flowers, then hang the cans. Instant garden and accent wall!
Become a bench warmer.
Benches are great in small spaces, especially outdoors. They can act as a table, additional seating, or accent décor for lanterns and plants. Choose or paint the bench in a bright color to stand out.
Light it up.
Bistro lights are both functional and decorative on a patio. They provide warm, complementary lighting as the sun goes down while also turning your cramped outdoor space into a charming sitting area.
Stay grounded.
Add an outdoor rug. This is another great way to easily and cost-effectively spruce up a small space. Outdoor rugs work well in patios and courtyards in Scottsdale golf homes, as they can also keep some of the persistent dust at bay. Pets prefer them as a nicer place to rest, too. Tie in colors from your garden or other lawn furniture for a cohesive look.
Window view.
Add a window box to a window near your door or one that faces the patio. You'll have the benefit of blooming buds or herbs and you'll be able to appreciate the colors from both inside and out. You can purchase pre-made window boxes or create your own with basic tools and supplies. This is another good way to keep plants out of the way from pets.
Group furniture.
If you have a large backyard in an Arizona golf home, you can use different furniture sets and groupings to create and define each space. For instance, use a dining table and chairs on the patio to create an eating area, but then lower and wider chairs with accent tables around a fire pit to create conversational areas. If you also have a built-in bar or BBQ – add bar-height chairs to create another functional area.
8. Accessorize.
Little details and accents can make a big difference, both in your home and on your patio. One design idea that could not be easier or more affordable is to accessorize. Use throw pillows, chair covers, outdoor rugs, lanterns and candles, planters, and even water features to breathe a little color and life into your space. These are affordable enough to replace as necessary, thanks to the bright Arizona sun.

Double up.
Some functional outdoor tools and supplies can double as furniture, décor accents, and even seating. We talked about the multi-functional bench, but think about a wheelbarrow, too. Add a piece of plywood or another flat surface that extends around the open space to create a cool sideboard. Use a rack hanging on the patio wall as a hanger for mason jar planters, dog accessories, or twinkle lights.
Design ideas that float.
Have a pool, water feature, or just a shallow bowl? Add some floating flowers, petals, or candles to create a whimsical and warm display. Use colors already found in your patio, like from your new rug, pillows, or accent furniture. Plus you don't have to remember to blow out the candles!
The little details can make all the difference in how you feel when sitting outside on your patio, as well as how your home looks to potential buyers. Feel free to give me a call for any advice on how to spruce up your outdoor areas!
Don Matheson
Realtor | Founder
The Matheson Team – RE/MAX Fine Properties
21000 N. Pima Rd., #100, Scottsdale, AZ 85255
480-405-4228 
[email protected]
[gravityform id="1″ title="false" description="false"]