If you live in Scottsdale, are in the process of relocating here, or interested in purchasing a second home here, you can test your knowledge of Arizona history with this short quiz.  The questions were originally published in the book titled Marshall Trimble's Official Arizona Trivia.
We are Scottsdale real estate experts who love sharing information about Arizona and Scottsdale with our readers.  Make AZGolfHomes your source for Scottsdale real estate and community information.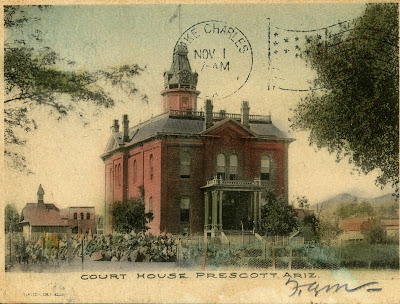 (Don't scroll down too quickly! The answers are posted below the questions.)
1. Before Arizona became a territory in 1863, it was part of which territory?
2. From what observatory was the planet Pluto discovered?
3. From what city did Barry Goldwater launch his 1964 Presidential campaign?
4. What 1854 purchase of land from Mexico brought south­ern Arizona into the U.S.?
5. What former Arizona governor gave the Easter Sunrise Service at the Grand Canyon for 25 years?
6. Who was the first woman Governor of Arizona?
7. What historic Mormon fort is located in northwest Ari­zona?
8. What was the name given to the U.S. Cavalry's black soldiers?
9. Who did Barry Goldwater defeat for the United States Senate in 1952 in one of Arizona's major political upsets?
10. What institution used the slogan "Arizona grows where water flows"?
11. Who is credited with having given Phoenix its name?
12. What happened on October 26, 1881 in Tombstone that brought everlasting fame to Wyatt Earp?
13. What were the General Jessup and Nina Tilden?
14. Who headed the Spanish expedition com­prised of the first non-Indians to see the Grand Canyon?
15. Which of the Earp brothers was gunned down in Hatch's Saloon (in Tombstone) in 1882?
Here are the answers to the above questions:
1. New Mexico Territory
2. Lowell Observatory (Flagstaff)
3. Prescott (on the courthouse steps)
4. Gadsden Purchase
5. Howard Pyle (1935-1960)
6. Rose Mofford (1988-1991)
7. Pipe Spring (National Monument)
8. Buffalo Soldiers (formed in 1866)
9. Ernest W. McFarland
10. Salt River Project
11. Darrell Duppa (Jack Swill­ing also acceptable)
12. The Gunfight at OK Corral
13. Arizona steamboats
14. Captain Garcia Lopez de Cardenas
15. Morgan
CONTACT US for information on buying or selling a home in the Scottsdale area.
Don Matheson
Realtor | Founder
The Matheson Team – RE/MAX Fine Properties
21000 N. Pima Rd., #100, Scottsdale, AZ 85255
480-405-4228 
[email protected]
[gravityform id="1″ name="Contact Form" title="false" description="false"]