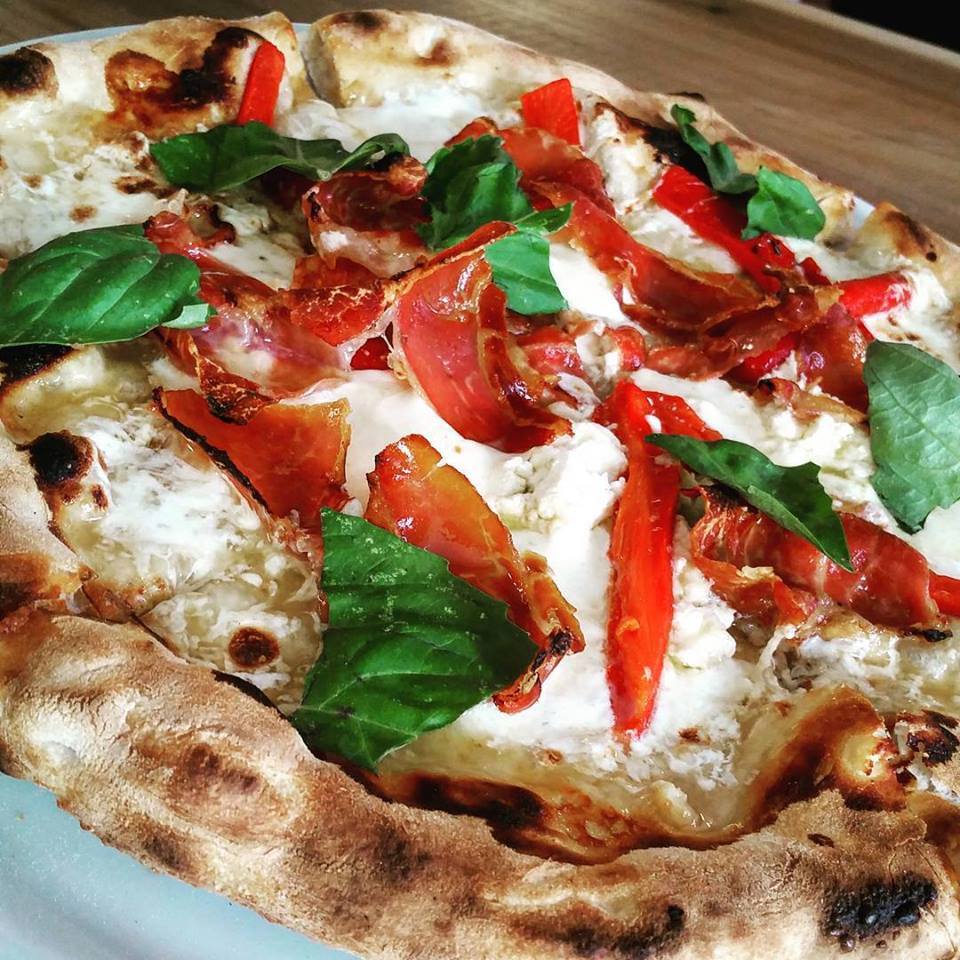 Although Craft 64 is celebrating its first anniversary this month, it's still a new kid on the Old Town Scottsdale block, but proving it has staying power. While other eateries in the surrounding area come and go, Craft 64 is drawing on its ultra-popular roots in Pizzeria Bianco to provide us with two things we love: pizza and beer.
From the name, you may not even realize that there is delicious wood-fired pizza to be had here. Craft 64 refers to both the local beer offerings – 30 total – and the hand-crafted pies.  64 comes from the number of ounces in a growler, which you can fill up with your favorite local brew. Craft can refer to the beer selections and the hand-made artisan pizzas. Head chef Horacio "Lachos" Hernandez honed his pizza chops for 17 years at Pizzeria Bianco in Phoenix.
So let's talk pizza. What sets Craft 64 apart from other pizza joints around Scottsdale golf homes? Everything is made in-house, from the dough to the mozzarella, sauces, breads, and dressings. Owners imported the pecan wood pizza oven from Italy to achieve a more authentic taste. The oven burns at temperatures of up to 900 degrees!
While your standard pepperoni pizza is on the menu, so are unique pizzas like the La Mancha, covered in chorizo and Spanish almonds, and the Fico, a pizza with a fig sauce base and topped with burrata, truffle oil, figs, and arugula. If you're into eating a little lighter or you want to take a group that may not all want pizza and beer, there are excellent salads and an extensive wine list. They even keep a sommelier on staff.
The 1937 adobe house that Craft 64 inhabits includes a quiet patio, perfect for year-round alfresco dining. By staying on the west side of Scottsdale Road in the more art gallery-oriented side of Old Town, off of Goldwater Boulevard and Main Street, Craft 64 has been able to hold their own in a more sophisticated area. There's no doubt that their prime location has helped shaped their reputation as a hot spot for the art and bar crawl crowd alike!
While it's true that locals in surrounding Arizona golf communities have plenty of fine dining to choose from in Scottsdale, it never hurts to add another option for homemade pizza with a wide selection of craft beverages! Craft 64's location and menu makes it a great place to take visitors when exploring Old Town Scottsdale, or a central location to stop for lunch while browsing golf course homes for sale in Scottsdale AZ!
Don Matheson
Realtor | Founder
The Matheson Team – RE/MAX Fine Properties
21000 N. Pima Rd., #100, Scottsdale, AZ 85255
480-405-4228 
don@azgolfhomes.com