When thinking about golf, most people think of it as a game. People usually think about the PGA tour, golf legends like Arnold Palmer and of course how expensive it can be to play on world-renowned courses. But it is not often thought of how golf actually contributes to the surrounding communities. Recent studies show that golf communities are contributing to a booming business that few really know about.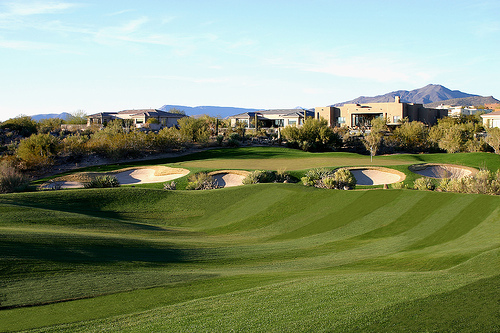 A Study of Golf Communities
In a study conducted at the University of Arizona in Tucson, the main focus of the study was golf and how it affected the economy of Arizona. The study showed that in 2014, there was a $3.9 billion boom in the Arizona economy and it is all thanks to the sport of golf.
The Arizona landscape is perfect for golf courses – this is probably why there are many golf communities throughout the state. These facilities help support the income of the state's economy by providing jobs and attracting local golfers as well as out of state visitors. The TPC Scottsdale courses are so beautiful that they attracted the attention of the PGA and have become one of the most popular stops on the tour. That tour, is also known as the Waste Management Phoenix Open.
The golf facilities themselves are not the only driving force behind the economy, the collaborators to the golf courses are, too. Supply vendors, driving companies and golf merchandise companies are only a few examples of outside sources that help the Arizona economy.
Booming Statistics
The overall monetary value of the Arizona golf business is an increase of $3.9 billion. To break that down, the study found that golf tourism contributed $1.1 billion, direct operations of the courses contributed $2.5 billion, and the remaining $347 million was contributed by golf-related activities. The study also concluded that the presence of golf has given a combined premium of $2.1 billion to real estate within golf communities; that is a huge value-add to every Arizona resident.
Of course this U of A study is great news, though probably not surprising, to those of us enjoying the benefits of living in Arizona. If you are looking for a house and want to help contribute positively to the economy, contact the Matheson Team.
Don Matheson
Realtor | Founder
The Matheson Team – RE/MAX Fine Properties
21000 N. Pima Rd., #100, Scottsdale, AZ 85255
480-405-4228 
don@azgolfhomes.com
Oops! We could not locate your form.