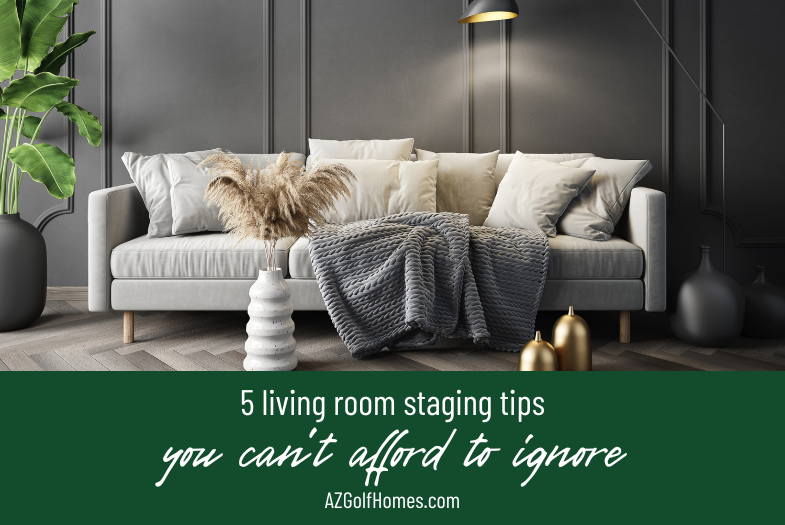 If you're selling your golf course home in Scottsdale, there are a few things you can do to make it more appealing to buyers – particularly in the living room. This guide explains. 
5 Living Room Staging Tips You Can't Afford to Ignore
Check out the five living room staging tips you can't afford to ignore if you're selling a golf course home in Scottsdale:
Using neutral colors
Arranging furniture for good flow
Harnessing the power of lighting
Creating a focal point
Decluttering and depersonalizing
Here's a closer look at each. 
Arranging Furniture for Flow
How you position your furniture can dramatically impact how spacious your living room feels. Try to arrange furniture in a way that encourages smooth movement and showcases the room's size and functionality. It's a good idea to remove some furniture if the room feels cramped.
Related: The perks of living in a Scottsdale golf course community
Harnessing the Power of Lighting
Well-lit rooms feel more inviting and spacious. Make the most of natural light by keeping windows clear of heavy drapes. Add floor or table lamps in darker areas to ensure the space is well-lit, even on gloomy days.
Creating a Focal Point
Every room needs a focal point. Whether it's a beautiful fireplace, a piece of art, or a stunning view, ensure your living room's main attraction grabs buyers' attention as soon as they walk in.
Decluttering and Depersonalizing
Clearing clutter makes your living room appear larger and more appealing. Remove unnecessary items and aim for a clean, streamlined look. It's also important to depersonalize the space so buyers can envision themselves living there.
Related: 9 spring home maintenance tasks to tackle before you list your home
FAQ About Living Room Staging
Here are some frequently asked questions about living room staging. If you don't see the answers you're looking for here, please call our office. We're here to help.
Should I hire a professional stager? 
If your budget allows, professional stagers can be a valuable resource. However, these tips should help you make significant improvements on your own.
How much should I spend on staging? 
The budget for staging varies. It can be as little as the price of a few cans of paint, or it could involve purchasing new furniture or décor.
Related: How much does it really cost to sell a home?
What if my living room is small? 
Even small living rooms can be staged effectively. Use light colors, mirrors, and minimal furniture to make the space feel larger.
Should I remove all personal photos? 
It's usually a good idea. You want buyers to envision their own family in the space, which can be hard if your family photos are on display.
Related: 9 spring home maintenance tasks to tackle before you list your home
Can I stage my home with my existing furniture? 
Absolutely! The goal is to present the space at its best, which often means decluttering and repositioning your existing furniture.
Staging your living room effectively can make a world of difference when selling your Scottsdale home. By implementing these tips, you'll create a welcoming space that allows potential buyers to envision their future life there. And that's a significant step towards a successful sale.
Are You Buying a Golf Course Home for Sale in Scottsdale?
If you're selling your home and buying another one, call us at 480-405-4228 or fill out the form below to talk to a REALTOR now.
While you're here, you can also check out:
Don Matheson
REALTOR® | Founder
The Matheson Team – RE/MAX Fine Pro