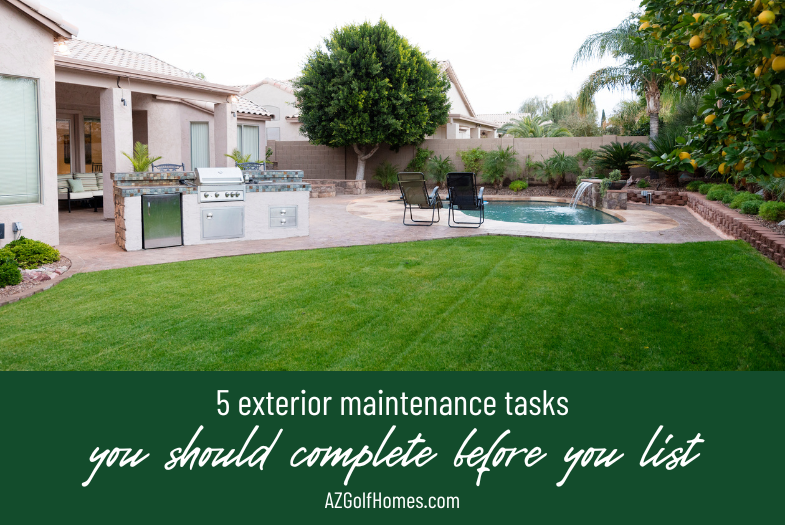 5 Exterior Maintenance Tasks You Must Complete Before You List Your Arizona Golf Course Home for Sale
If you're selling your golf course home in Scottsdale, you'll need to tackle a few exterior maintenance tasks. This guide explains the basics of what you should do before you list. 
5 Exterior Maintenance Tasks You Must Complete Before You List Your Arizona Golf Course Home for Sale
Check out the five exterior home maintenance tasks you should perform before you list your home for sale:
Checking your home's facade
Taking care of your lawn
Keeping the pool pristine
Maintaining the patio and outdoor spaces
Ensuring the driveway and walkways are in top shape
Here's a closer look at each.
Checking Your Home's Facade
The facade is one of the first things potential buyers see. Make sure the paint is fresh, the windows are clean, and the gutters are clear. If there's any damage, it's better to fix it now than to let potential buyers spot it during a tour.
Related: The perks of living in a Scottsdale golf course community
Taking Care of Your Lawn
A well-manicured lawn is a must for any golf course home. Ensure the grass is green, neatly trimmed, and free from weeds. Consider hiring a professional landscaping service if you're unsure about how to maintain it.
Keeping the Pool Pristine
If your property has a pool, it's crucial to keep it clean and well-maintained. A clean pool is an attractive asset, while a dirty one can be a deal-breaker. Regularly check the water's pH balance, and make sure the pool's hardware is in good working order.
Related: 9 spring home maintenance tasks to tackle before you list your home
Maintaining the Patio and Outdoor Spaces
Outdoor spaces are an essential part of any golf course home. Regularly clean and maintain your patio furniture. Ensure all lighting fixtures work properly, and replace any broken or burned-out bulbs.
Ensuring the Driveway and Walkways are in Top Shape
Cracked or uneven driveways and walkways are not just unsightly but can be a safety hazard. Repair any damages, keep them clear of debris, and consider a power wash to make them look their best.
FAQ About Preparing Your Golf Course Home for Sale
Here are some frequently asked questions about preparing your golf course home for sale. If you don't see the answers you're looking for here, please call our office. We're here to help.
Should I hire a professional for these tasks? 
It depends on your skill level and comfort with DIY tasks. Hiring a professional can ensure the job is done right.
Related: How much does it really cost to sell a home?
How much time should I allocate for these tasks? 
Each task varies in time, but start early to ensure everything is completed before listing your home.
What if I can't afford all these improvements? 
Focus on what you can do. Simple tasks like cleaning the gutters and mowing the lawn can make a significant difference.
Do I need to stage the outdoor spaces? 
Staging can help potential buyers envision themselves in the space. Consider adding outdoor furniture or setting up a BBQ area.
Related: Should you waive contingencies in a hot real estate market?
What if my home doesn't have a pool? 
While a pool is a great feature, not all buyers want one due to the maintenance. Focus on your home's other outdoor features.
Selling your golf course home in Scottsdale requires a bit of preparation, but it's worth the effort. By completing these exterior maintenance tasks, you're setting yourself up for a smoother selling process and potentially higher offers from impressed buyers.
Are You Buying a Golf Course Home for Sale in Scottsdale?
If you're selling your home and buying another one, call us at 480-405-4228 or fill out the form below to talk to a REALTOR now.
While you're here, you can also check out:
Don Matheson
REALTOR® | Founder
The Matheson Team – RE/MAX Fine Pro