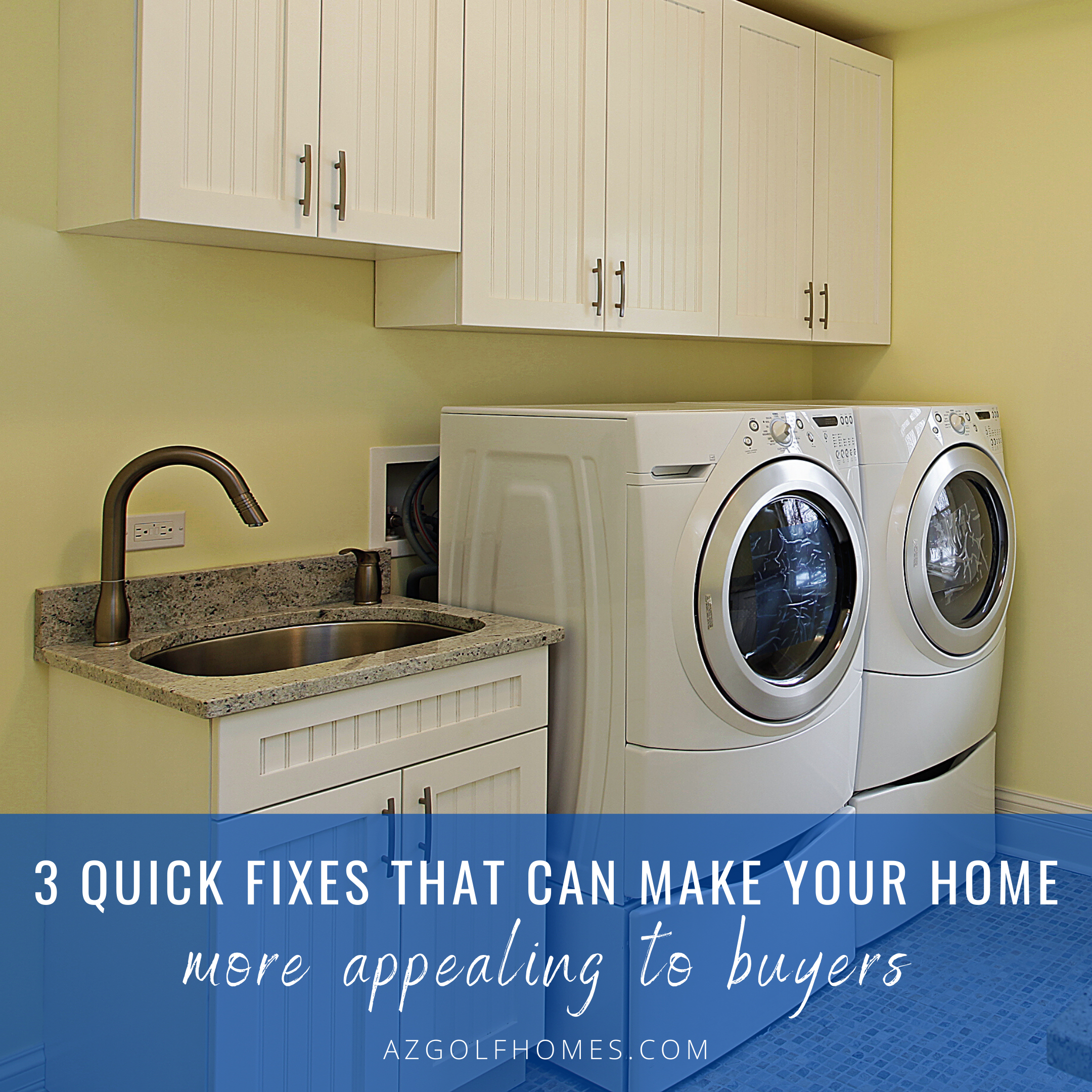 When you're selling a golf course home in Scottsdale or a nearby community, your REALTOR® will talk to you about home staging and why it's so important (did you know that staged homes sell for, on average, 17 percent more than non-staged homes do?). But before you stage, you might want to consider making these three quick improvements that can make your home even more appealing to prospective buyers.
3 Quick Fixes That Can Make Your Home More Appealing to Prospective Buyers
Even if you're not particularly handy, there are three quick, easy projects you can dive into before you list your home for sale – and each of them is usually well-received by prospective buyers. Check them out:
Infuse your laundry room with a fresh style
Organize (and thin out) all your closets
Add lighting
Here's a closer look at each.
Quick Fix #1. Infuse Your Laundry Room With a Fresh Style
Laundry rooms aren't usually very high on buyers' lists of make-or-break spaces in a home (those are reserved for the kitchen and bedrooms), but freshening up your laundry room's style is a surefire way to impress people who come to tour your home. It's a space built purely for function, so that's what buyers expect… but when yours looks bright, attractive and easy to work in, it can pack a powerful punch when buyers are forming an impression of your home.
Use these tips to improve your laundry room:
Add wall storage for laundry supplies
Hang a drying rack from the ceiling
Make the most of unused corners by adding shelving
Create a folding station
Use pedestal drawers beneath your washer and dryer
You might also consider freshening the paint on the walls, adding a mirror to the room to reflect more light, and putting a padded floor mat in front of the washer and dryer.
Quick Fix #2. Organize (and Thin Out) Your Closet
One of the first things buyers will do when they go into any bedroom is look in the closet. Even if your closets aren't particularly large, it's a good idea to start thinning them out a bit. Start with seasonal clothes; put off-season clothing in storage until it's time to wear it next year. Then, pull out everything you don't wear frequently. The idea is to take your closet down to about a third of what it normally holds. That way, buyers can see that there's ample space inside for their own clothing.
If your closet is slim on organizers, think about adding some built-ins. They can add a bit of value to your home (although probably not enough to pay off in a big way at the closing table) and help buyers envision their stuff in your space.
Quick Fix #3. Add Lighting
Go through each room in your home and look for dim spots. You'll typically find them in high corners, near built-in shelving and other features, and sometimes right in the middle of a wall. You want to eradicate as many dim spots as you can by adding extra lighting. Buyers love to see bright, open spaces, and rooms that lack enough light look closed-in and dreary. Think of lighting in three layers: ceiling illumination, mid-level illumination, and floor illumination. You want to create rooms that make use of hanging lights, lamps and natural light from windows.
Pro tip: If you just can't get all the spots, add a mirror. Mirrors do more than just reflect light – they also add to the illusion of space. If you want to visually lengthen a room, add a long, rectangular mirror; if you want the ceiling to appear higher, use a vertical mirror. (And if it doesn't matter, pick something unique!)
Are You Selling a Golf Course Home for Sale in Scottsdale?
We can help you sell your home quickly (and at the right price). Our innovative marketing techniques leverage several mediums to reach qualified buyers – and we can put our experience and knowledge to work for you.
If you're selling your home and buying another one, call us at 480-405-4228 or fill out the form below to talk to a REALTOR now.
While you're here, you can also check out:
Don Matheson
REALTOR® | Founder
The Matheson Team – RE/MAX Fine Properties
21000 N. Pima Rd., #100, Scottsdale, AZ 85255
480-405-4228
Explore Luxury Homes in Scottsdale