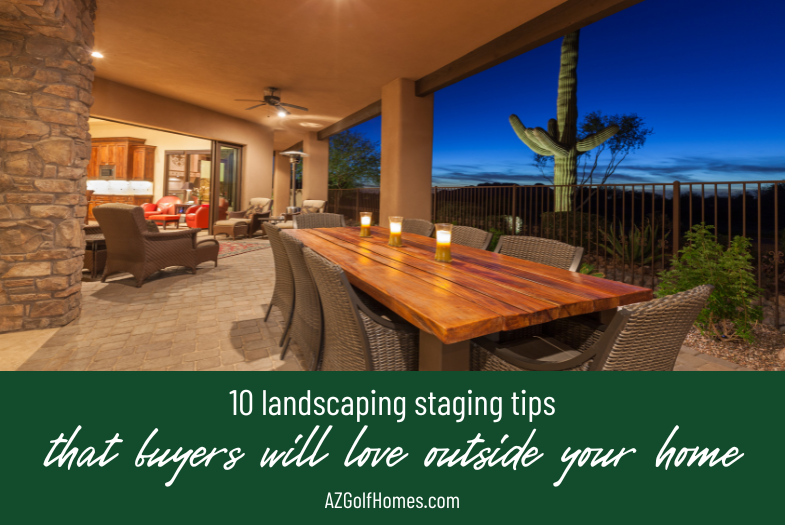 If you're selling your golf course home in Scottsdale, you probably already know that having a well-manicured yard can make a tremendous difference in the way people feel about your property – but where do you start? This guide explains. 
10 Landscaping Tips That Will Make Your Golf Course Home Irresistible to Buyers
In this guide, you're going to learn how to enhance your property's curb appeal and create a stunning outdoor space that potential buyers can't resist. The topics we're covering include:
Focusing on curb appeal
Going for low-maintenance plants
Making your entrance inviting
Installing outdoor lighting
Paying attention to outdoor living spaces
Mulching and edging garden beds
Keeping the lawn green and trimmed
Using plants for privacy
Highlighting your home's architecture
Embracing your golf course views
Here's a closer look at each.
Focusing on Curb Appeal
Your front yard is the first thing buyers see. Make sure it's clean, tidy, and attractive. This includes trimming shrubs, pulling weeds, and even sprucing up the mailbox.
Related: The perks of living in a Scottsdale golf course community
Going for Low-Maintenance Plants
Consider using drought-tolerant, native plants that require minimal watering and maintenance. Buyers will appreciate a beautiful yard that isn't too demanding.
Making Your Entrance Inviting
The entryway should feel warm and welcoming. A well-maintained pathway, potted plants, and a fresh coat of paint on the front door can do wonders.
Installing Outdoor Lighting
Well-placed lighting enhances safety and adds a touch of elegance. Consider path lights, spotlights for trees, and a pendant light for the entrance.
Paying Attention to Outdoor Living Spaces
Golf course homes are all about outdoor living. Make sure patios, decks, and pools are clean and inviting. Comfortable outdoor furniture is a plus.
Mulching and Edging Garden Beds
Mulch garden beds to improve soil, retain moisture, and reduce weeds. Edging creates a clean line between your lawn and garden beds, adding to the overall aesthetic.
Keeping the Lawn Green and Trimmed
A lush, green lawn is a must. Water regularly, trim grass to a uniform height, and address any brown spots promptly.
Using Plants for Privacy
While golf course views are a selling point, some buyers prefer privacy. Strategic planting of tall shrubs or trees can provide the best of both worlds.
Related: 9 spring home maintenance tasks to tackle before you list your home
Highlighting Your Home's Architecture
Use landscaping to highlight your home's architectural features. For example, a trellis or flower bed can draw attention to a beautiful bay window.
Embracing Your Golf Course Views
Maximize the golf course views by ensuring nothing obstructs the sightlines. Use low-profile furniture and plants, and position seating areas towards the view.
FAQ About Landscaping Golf Course Homes
Here are some frequently asked questions about landscaping golf course homes. If you don't see the answers you're looking for here, please call our office. We're here to help.
Do I need a professional landscaper? 
It depends on the condition of your yard and your comfort with gardening. These tips should help you tackle most of the basics.
Related: How much does it really cost to sell a home?
How much should I budget for landscaping? 
This varies greatly, but investing in curb appeal often pays off.
Can I keep my personalized garden features? 
While it's best to depersonalize the home for sale, some buyers may appreciate unique, tasteful garden features.
Should I install a sprinkler system? 
A sprinkler system is often a selling point for buyers, especially in a dry climate like Scottsdale's.
Related: Should you waive contingencies in a hot real estate market?
What about the backyard? 
Even though the front yard is critical for curb appeal, a well-kept backyard is also essential, especially in a golf course home.
Landscape improvements can significantly enhance your golf course home's appeal and potentially increase its market value. By implementing these tips, you'll ensure your property stands out from the competition and appeals to discerning buyers.
Are You Buying a Golf Course Home for Sale in Scottsdale?
If you're selling your home and buying another one, call us at 480-405-4228 or fill out the form below to talk to a REALTOR now.
While you're here, you can also check out:
Don Matheson
REALTOR® | Founder
The Matheson Team – RE/MAX Fine Pro